20 Beautiful Dumfries and Galloway Wedding Venues.
Firstly I have lived all my life in Dumfries and Galloway; one of the most beautiful and underrated parts of Scotland. Dumfries and Galloway Wedding Venues are some of the best wedding venues in the entire country. Did you know that elopement weddings started right here in Gretna? If you are travelling to the area for a destination wedding, it is an incredible place to give your guests a taste of Scotland.
Throughout the hundreds of miles of rugged coastline large country estates and house hotels. To our truly amazing forests sprawling lochs, there is something to suit every taste. Browse through these Dumfries and Galloway Wedding Venues, and start dreaming about your big day in South West Scotland.
Once you have a vision for your wedding, have a look through the different venues, then visit your favourites. There's nothing like seeing a venue in-person to help make up your mind!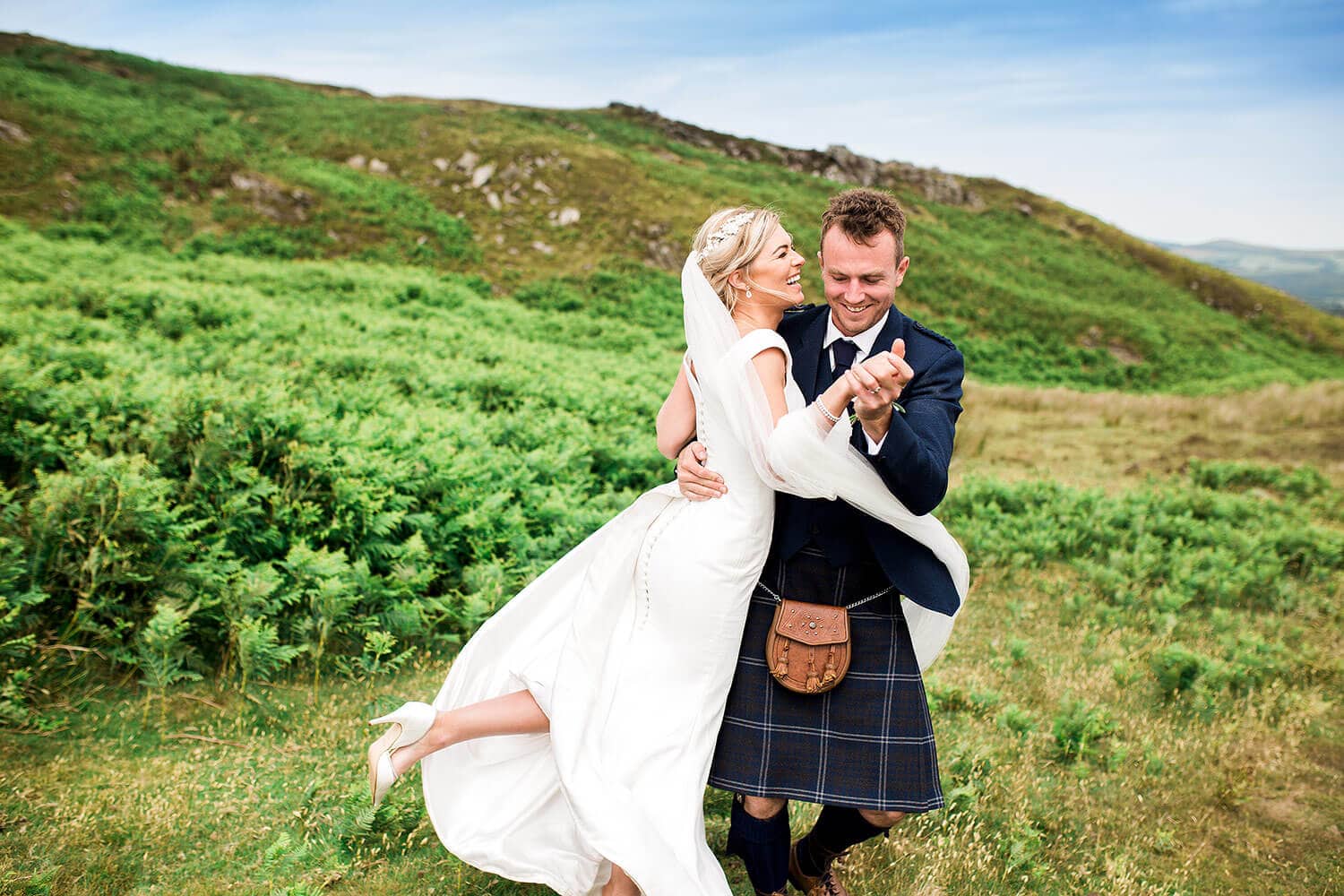 Firstly, this is the newest venue to grace our region right in the heart of Galloway. The purposely built GGs yard owned by Duncan and Vicky McConchie. Set on the hillside overlooking the fantastic Kirkcudbrightshire Coastline and the glorious Galloway Hills. Moreover, it's lovely to see they have thought of every detail in the beautiful Rustic Luxe Barn conversion.
The Dalswinton Estate, with its very own Glasstop Marquee, is an ideal venue for a couple looking for something a little different than a country house wedding. The estate boasts its own Wee Red Barony Church, a stunning Church Missionary Style Church that you see all over the world. Surprisingly, this little church holds well over 120 people. The grounds of the estate overlook the lovely Loch, complete with its Turret in the middle island, and walled garden, to name a few.

It was recently acquired by the Rad Group, who own other lovely venues such as Lochside House Hotel. Hetland Hall has transformed into a modern elegant country house set amidst 18 acres of private parkland with its sweeping views over the Solway Firth. You can see Criffel (Dumfries' Tallest Hill) on a good day on their beautiful balcony, rather amazing. Just off the A75 it is one of the closest wedding venues to the border with England.

Friars Carse is a delightful country house hotel filled with lots of character and a beautiful marquee too. The grounds within a beautiful estate of ancient woodlands and picturesque views over the river Nith, which is one of the locations you can choose to have a stunning outdoor Scottish ceremony. Additionally it has a beautiful charm of the baronial style house which has strong ties to Robert Burns who lived nearby.
Easterbrook Hall & Crichton Church

One of the areas largest wedding venues right in the heart of Dumfries is Easterbrook Hall. Set on a large estate, one of the most significant wow factors of this venue is their beautiful memorial church. The Crichton Church is that it is non-denominational, which means you can have any ceremony, not just religious. With a large selection of beautiful function rooms as well as its well kept Gardens which look beautiful all year round.
Springkell is a stunning Palladian Mansion built from 1734 and just 6 miles from historic Gretna Green and is a wonderfully elegant venue. With a recent addition of a permanent marquee, Springkell has a lot of history and character that add that level of je ne sais quoi to your big day.
With views overlooking the Solway Firth and a Clifftop, Ceremony Area is enough to make you go weak at the knees. Equally important it has a private beach on the estate as well and a beautiful garden designed by the family and boating pond too. Orroland is a hidden gem in the region if you are having a smaller wedding, 30 guests or less.

Firstly, Mabie House Hotel just a stone's throw away from Dumfries is nestled right at the edge of Mabie Forest. The grand house has made a recent new feature to their wedding list with a stunning Garden Pavillion. You can choose to either get married on the grounds or in the Hotel. Additionally, Marie is family-run by a local family with great hospitality and food in mind.

Often overlooked, just on the outskirts of Castle Douglas and Home to the world famous, Threave's gardens. There is no shortage of locations for the ceremony or after it for your couples pictures. Additionally, a little tip is that the garden has a hillside daffodil array shaped like the map of the UK! 

Auchen Castle is 5 minutes of the M74 and 10 minutes away from the closet town Moffat. Built onto the hillside, the grand Castle is a lovely location if a wedding is your dream. Furthermore, with manicured gardens and boating pond and the bottom of the cliffside, it has a classic and grand feel for any wedding.
A very child-friendly venue the Cocoa Bean is just outside Tywnholm. It may be the only venue I know of with its very own chocolate factory and play area next door. It has a bandstand where most weddings happen. Lastly, after the speeches kids can also go to the Chocolate Factory, allowing you and guests to have some time for yourselves.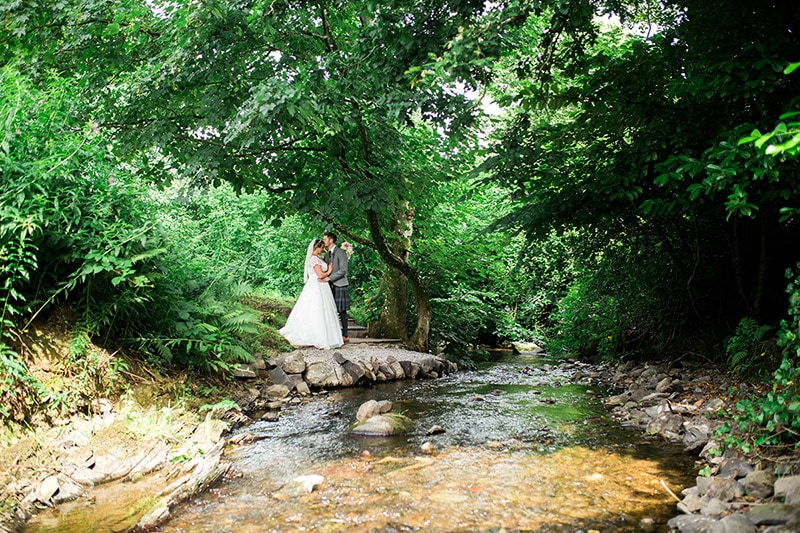 Firstly, Part of the Estate of the Stair Family, Castle Kennedy is in the deepest part of the region closest to the port town of Stranraer. It has world-renowned gardens and of course the beautiful grounds of the Castle it's a venue to consider viewing. As a result, I love these gardens in the height of spring. Giant Rhodendrium Bushes lochside views and its small church it can accommodate any wedding.

Do you want to get married in a real moated triangular castle first built in the 13th century? Steep in hundreds of years of history Caerlaverock Castle provides a unique location for any wedding. The Castle is part ruin with no roof in the middle courtyard so bring umbrellas if the weather is damp. This venue has no on-site dedicated wedding space so I would suggest it for smaller intimate weddings.

Craigadam is a wedding venue in the heart of a farm and shooting location. For one thing ,if you are a foodie this venue has exquisite local produce for the wedding breakfast, this is a strong contender. The venue has a unique marquee courtyard filled with a vast water feature as well as lots of plants and ferns. If you like quirky, this place has coolness in abundance.
Additionally, one of Dumfries and Galloways finest Castle Weddings Venues. Drumlanrig Castle sits in the middle of the giant Bucculegh Estate just 30 minutes north of Dumfries. A grand and majestic venue with options for either a ceremony inside the castle or in its grounds.


Lot's more venues to view below!

Are you an adventurous couple? And looking for a venue tucked away in the hills situated right on the side of one of the biggest lochs in Dumfries? Then this may be the venue for you. You can get married inside the converted boatshed or on the shores of Loch Ken. Additionally, it's one of the only places I know where you can arrive in front of your guests by boat. What a way to make an entrance.

The second of two venues in Mabie Forest, Marthrown of Mabie is off the beaten track. Couples that want a boho and woodland wedding venue, Marthrown is a good choice. Right in the heart of the forest complete yurts and tipis. Marthrown is a good choice it's great if you are planning a chilled out festival style wedding .

Do you love the sea? Have you ever fancied getting married in a Lighthouse? You can get married in the lovely Corsewall Lighthouse. Perfect for a minimal and intimate wedding overlooking the Sea. Ideal for anyone looking for something bold a different in a venue. 

Finally, in Scotland you can get married wherever as long as you have permission from whoever owns the land. And overall has some of the most beautiful scenery, its such a viable option. Furthermore, you could choose to hike to the top of Loch Skeen above the Graymares tails or in the Heart of the Galloway Forest. The choice is vast and entirely yours.
In Conclusion, Do you know of (or work for) a wedding venue in Dumfries and Galloway that's not on this list? Please contact me; I'd love to add it to this Dumfries and Galloway Wedding Venues Guide.

Looking for a wedding photographer in Dumfries and Galloway?