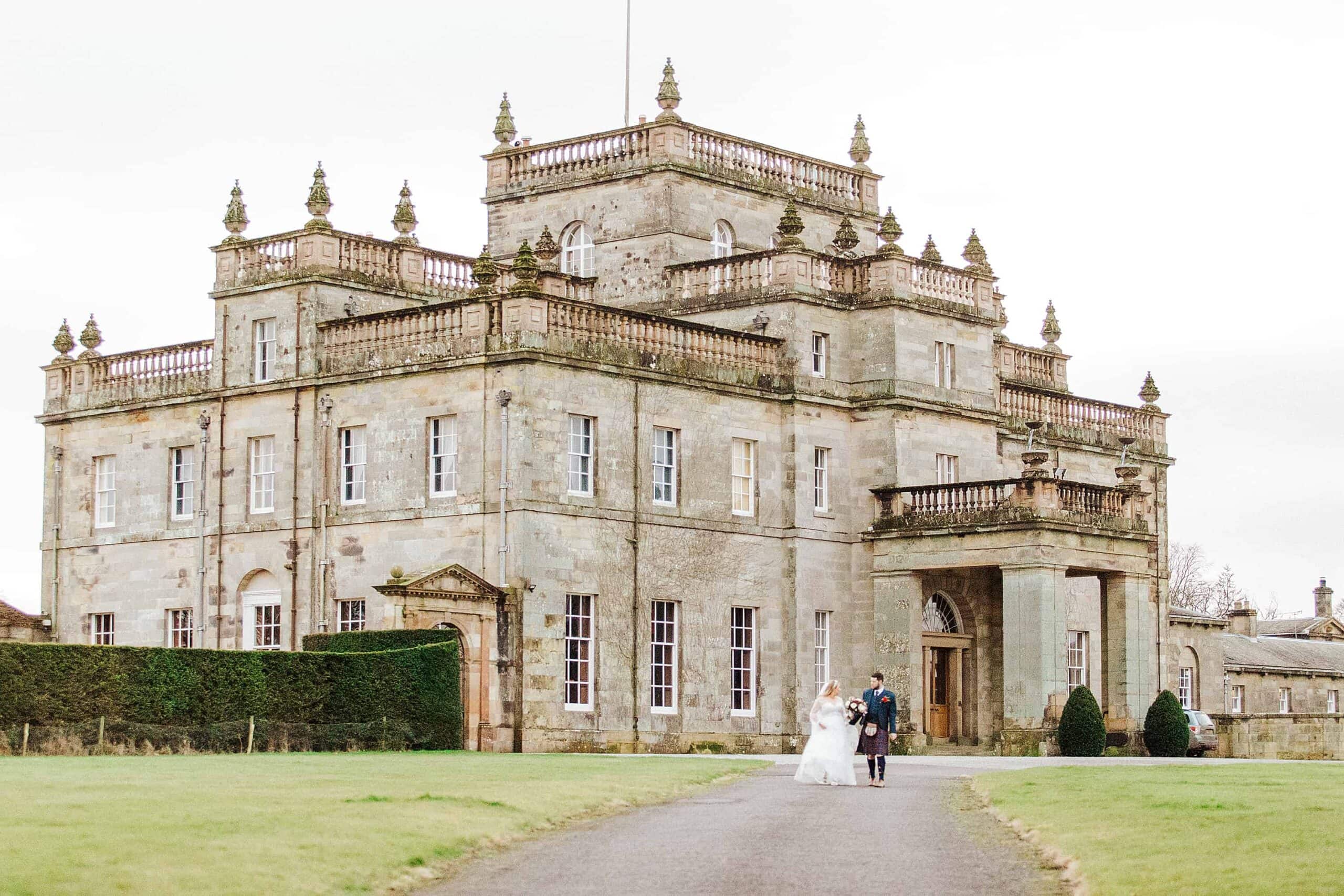 Here is everything you should know about planning your wedding or elopement at Kinmount House. One of the most beautiful country house wedding venues in Dumfries and Galloway.
I have been lucky enough to photograph the Kinmount House Wedding Venue since it opened its doors in 2020. I created this guide to share everything I've learned about having the best wedding day ever at this beautiful venue. I'll let you know how to book the venue, essential things to consider and exciting locations.
If you've landed here, chances are high you're considering Kinmount house as your wedding location. Are you ready to learn everything you need to know about the kinmount house wedding venue?
Where is Kinmount House?
Kinmount House is located in Dumfries and Galloway, Southwest Scotland. It is 1.5 hours from Glasgow, two from Edinburgh and 2.5 from Manchester. The easiest way to the venue is by car. The closest train stations are Dumfries and Lockerbie, 20 minutes for Dumfries and from Lockerbie. Prestwick Airport is the closest at around one and a half hours away. Additionally, guests coming from Ireland can take the ferry to Cairnryan then follow the A75 to the venue!

Why choose Kinmount House for your wedding ceremony.
There are many options for wedding reception venues in Scotland, but none of them are quite as unique. Steeped in history, this magnificent 19th-century country house is the idyllic location for your wedding, corporate event, or private party. Nestled within 2000 acres of natural beauty, the woodland, lakes and parkland, offer seclusion and privacy to you and your guests.
The lovely Birkbeck family has owned the venue and estate for over 200 years. This extraordinary country home and estate is now opening its doors to provide a spectacular platform for you to experience.
The location has lots of space, with each one designed with your wedding in mind.
How many guests can Kinmount House hold?
Kinmount can hold over 100 guests during the day with space for 200+ total guests for the evening reception.
Spaces inside Kinmount wedding venue.
The Ballroom
The Ballroom has huge vaulted ceilings are period features that make it an excellent choice for wedding ceremonies at Kinmount.

Orangery
Recently renovated, the Orangery offers beautiful light and airy atmosphere to host your wedding ceremony.

Pavillion
The Pavillion was completed in 2021. It is the perfect space to host your evening reception and dancing at the house. Complete with a stunning glass awning, it's an area for all weathers.

Best timing for your wedding.
First of all, to make this super clear, if you want to have your wedding at Kinmount Hotel, I suggest you check availability. It's a trendy venue, so popular they get lots of mid-week weddings too. Weekends are in high demand, now filling up for Summer 2023 weddings.
Southwest Scotland has very changeable weather like the whole west coast, but the most settled months are (May-June) (Sep-October). However, this is not a guarantee for good weather! Weddings any time of the year here are incredible. There are so many great locations inside and outside the venue that you are spoiled for choice.
Unique Locations for your couples' photos at Kinmount House.
One of my favourite parts of any wedding day is your couples photo session. I always make sure that we work as quickly, maximising the locations and having the most fun possible!
The Italian Gardens

The stunning Italian Gardens are looked after by the estate's dedicated gardeners. It makes for a beautiful backdrop for couples' photos and outdoor ceremonies.
As you exit the bottom of the garden, you'll come to a beautiful set of stairs that lead you down to the Loch.
The Loch
Kinmount has a few lochs on its stunning grounds. With their own eco-friendly steamer boat, couples can also take a loch tour complete with champagne and spectacular scenery.

There is a picture-perfect bathing house at the bottom of the Loch, still standing in all of its historic beauty.
Inside Kinmount House
The building has many beautiful spots for pictures, including the grand staircase. Be sure to look up to the ornate ceiling to gaze at the incredible paintings above.

Why should you consider booking Kinmount?
There are many reasons why you should book Kinmount for your wedding. but here are some of my top reasons:
Hosts over 200 guests but can accommodate smaller, more intimate weddings too.
Family-run venue, with customer service at its heart.
Exclusive use in beautiful surroundings.
Onsite accommodation with other hotels located minutes away.
Killer locations for your couples' pictures.
Great space for live entertainment.
Lastly, If you're ready to plan your own wedding or elopement at Kinmount house, I would love to help you capture the big day. Get in touch and let's make it happen! Click here for their site.