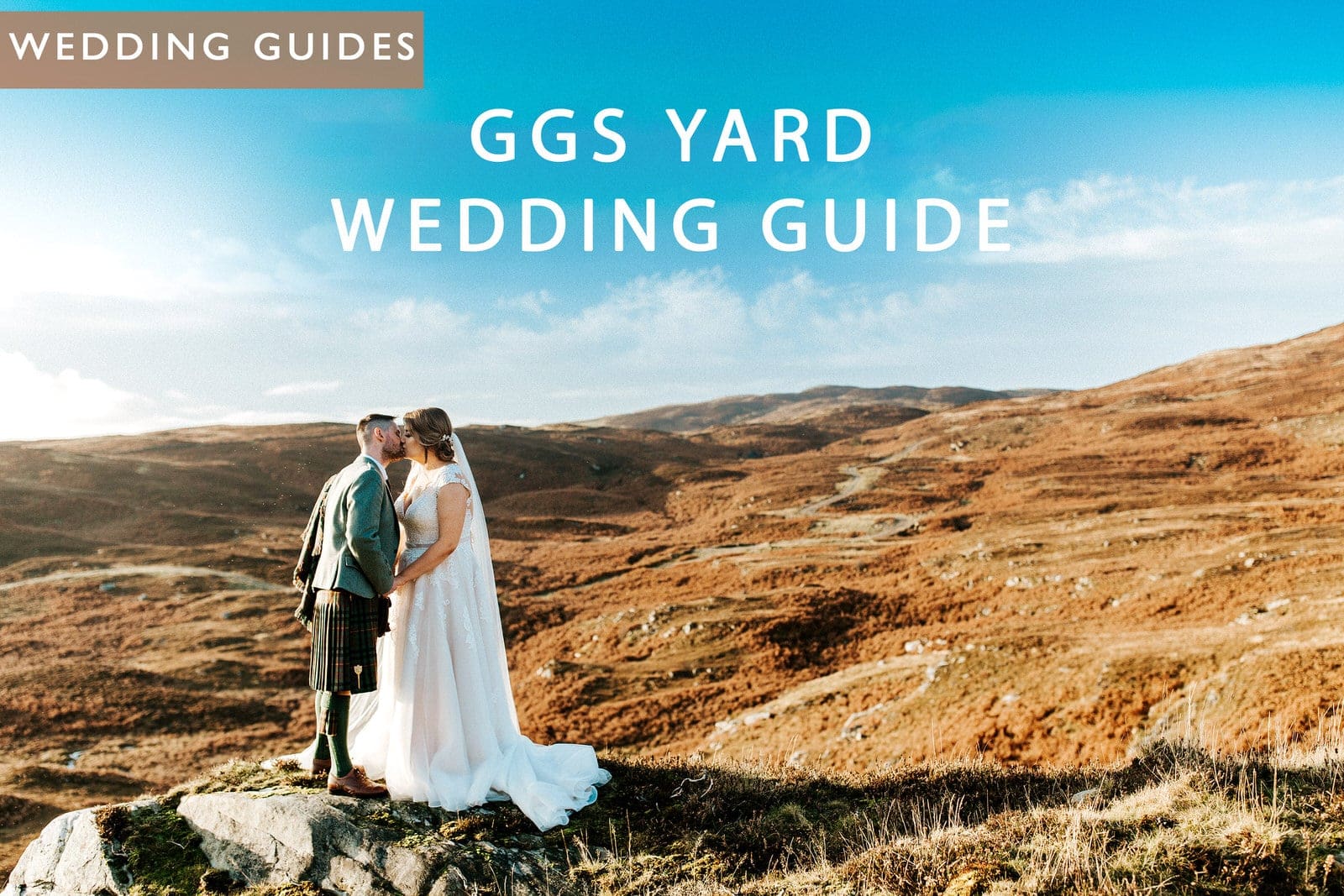 GGs Yard Wedding Guide – Everything you should know in 2022.
Here is our GGs Yard Wedding guide with everything you should know about planning your wedding or elopement at one of the most beautiful barn wedding venues in Dumfries and Galloway.
I have photographed many GGs Yard weddings since this venue opened its doors in 2018. I created this guide to share everything I've learned about having the best wedding day ever at this beautiful venue. I'll let you know how to book the venue, essential things to consider and exciting locations.
If you've landed here, chances are high you're considering GGs Yard as your wedding location. However, are you ready to learn everything you need to know about having a wedding at GGs Yard in Dumfries and Galloway?
Where is GGs yard?

GGs Yard is in Dumfries and Galloway, Southwest Scotland. It is approximately 2 hours from Glasgow, 2.5 from Edinburgh and 3.5 from Manchester. The easiest way to the venue is by car. The closest train stations are Dumfries and Lockerbie, which are 45 minutes for Dumfries and an hour away from Lockerbie. Prestwick Airport is the closest at around one and a half hours away. Additionally, guests coming from Ireland can take the ferry to Cairnryan then follow the A75 to the venue!
Why choose GGs Yard for your wedding ceremony. 
There are many options for wedding reception venues in Scotland, but none of them are quite as unique. In addition to being in one of the most beautiful areas in Scotland, GGs sits right on the coast of Dumfries and Galloway, . The venue sits on the hilltop overlooking the Solway Firth with rolling moorland hills behind you. Because of its location, you can see the Isle of man on a clear day and  Ardwell Island just in front. 
The venue is a 250-year-old converted barn meticulously restored bringing a rustic-luxe feel to the space. Keeping original brickwork and gigantic windows floor to ceiling throughout it feels welcoming and also light and airy. 
People have compared it to the Western Isles of Scotland for its remote and rugged beauty all around. The owners Vicki & Duncan McConchie and all their staff are there to make sure you have the best wedding ever. 
Of course, the location has lots of space with each one designed with your wedding in mind. 
How many guests can ggs yard hold?
GGs Yard can hold up to 200 guests during the day with space for 350 total guests for the evening reception.
Spaces inside GGs yard wedding venue.
Bridal Suite.

The bridal suite sits in its own nest above the ceremony wing. The suite has lots of space for all the bridal party to get ready in with lots of natural light. The venue doors are closed until just before the ceremony, allowing you to see how everything comes together.
Whiskey Room.

If your partner is getting ready upstairs with the Bridal Party, you don't have to feel left out! Why not sit in the cosy Whiskey snug room? Have a tipple or two before the ceremony and soak in everything that is going on. 
Ceremony Wing.

The ceremony wing is a unique and long space, with seating for up to 200 guests it's perfect for all weddings. Making your grand entrance down the staircase from the Bridal Suite. The top of the Aisle that's directly beneath the beautiful floor to ceiling windows that flood the room with light. It has original stone walls, rustic exposed beams, and views overlooking the sea it's a one-off ceremony location.
Hilltop.

Choosing to get married in a less traditional location you can opt for GGs own Hilltop view. Overlooking Southwest Scotland in all its glory, you really can tie the knot on top of the world!
Grand Gallery.

When you're ready for your speeches and dinner, you will take your place in the Grand Gallery. The room will sit up to two hundred people, with a beautiful rustic-luxe barn look. The venue needs minimal decor as the building provides so much character itself. You can choose to go with round tables or banquet style. Top tip, place your top table underneath the magnificent stags head above the fireplace. The fireplace frames your top table perfectly for the speeches and lets you take advantage of those views!
Accommodation : Snugs

Lastly, GGs Yard has on-site accommodation with 18 beautiful snugs. They have views of the sea, some with hot tubs and each decorated with a beautiful theme. The venue has a cottage as well for someone needing a little more room. There is extra accommodation nearby dotted about nearby in Gatehouse of Fleet and Auchenleire Caravan Park.
Best timing for your wedding.
Firstly, to make this super clear if you want to have your wedding at GGs, I suggest you check availability. It's an incredibly popular venue, so popular they get lots of mid-week weddings too. Weekends are in high demand, now filling up for Summer 2022 weddings. 
Southwest Scotland has very changeable weather like the whole west coast, but the most settled months are (May-June) (Sep-October). This is not a guarantee for good weather! Weddings any time of the year here are incredible. The hilltop is bright, luscious green in the summer with lots of ferns and heather strewed across the hill. When winter sets in those ferns die off giving it a golden colour.
Amazing Locations for your couples photos.
One of my favourite parts of any wedding day is your couples photo session. I always make sure that we work as quickly maximising the locations and having the most fun possible! 
GGs has two central photo opportunity locations: Hilltop or Beach. 

Hilltop – My favourite of the two, because I live for the hills. The views at the top are a double-whammy. With the rolling fields and sea view behind you or turn 180 degrees, you face into the hillside. The interior view of the rolling hills is beautiful and feels so sparse and remote, almost like Glencoe. If the sun is out, you can usually grab a picture-perfect sunset any time of the year. 

Beach –  Likewise Mossyard beach is only a 5-10 minute drive from the venue. Be sure to weather adequate footwear for the beach. The beach has a beautiful view overlooking the Irish Sea, with lots of rocky outcrops. If you and your partner love walks along the beach, then this location is a must for you. 
Furthermore, there are also lots of amazing little photo locations across the venue, including the beautiful patio area behind the ceremony wing. Nevertheless GGs comes alive in the evening with lots of fairy lights, creating a fantastic backdrop for darker photos. For anyone planning a winter wedding, the sunsets directly over the sea! 
Why should you consider booking GGs?

There are many reasons why you should books GGs Yard for your wedding. but here are some of my top reasons: 
Firstly, it can hosts up to 200-day guests with 350 for the evening reception.

Secondly, it's family-run venue, with customer service at its heart.

Exclusive use in beautiful surroundings.

Killer locations for your couples pictures.

Lastly, it's an incredible space for live entertainment. 
Are you convinced that you should have your wedding ceremony at GGs Yard yet? Here is a link to their website.
Do you want to get married at GGs Yard?

Lastly, If you're ready to plan your own wedding or elopement at GGs Yard, I would love to help you capture the big day. Get in touch and let's make it happen! I have had the pleasure to have shot over 20 weddings in the venue so I know everything like the back of my hand.  Be sure to check out a few galleries of beautiful Weddings I have shoot at GGs Below!