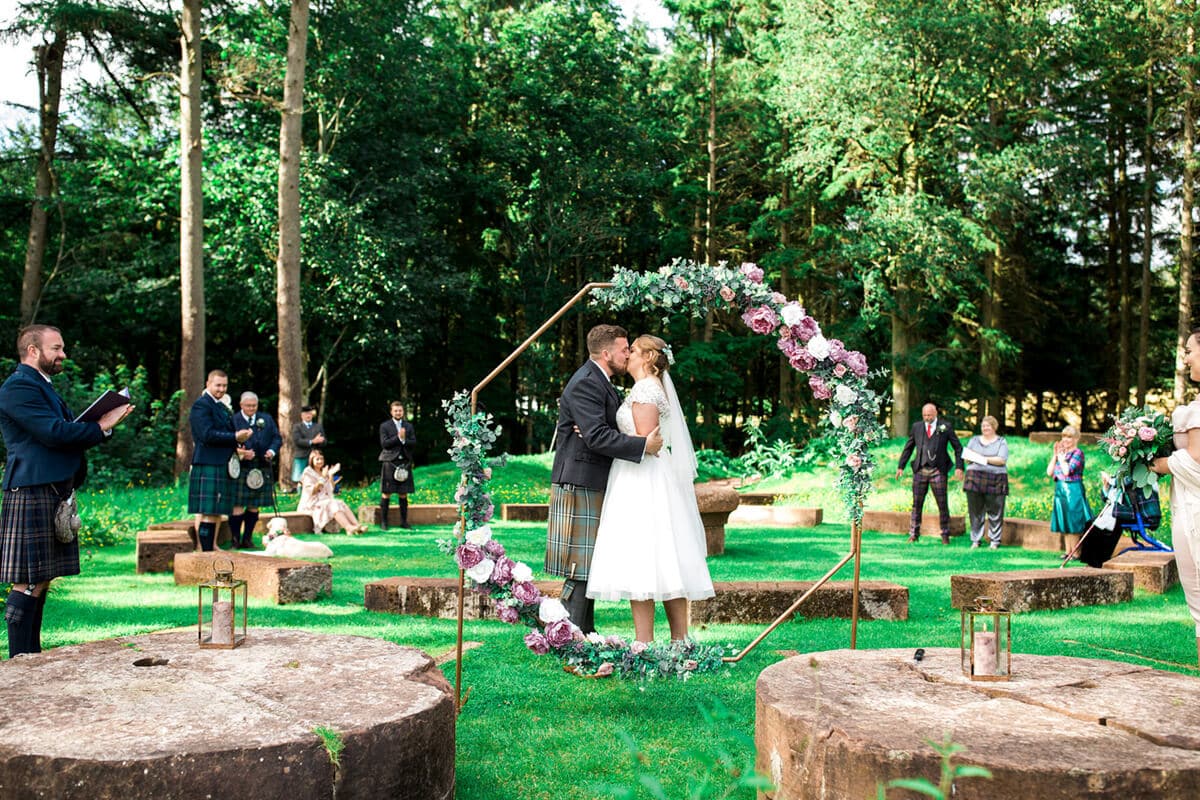 Dalswinton Estate offers so much for any couple looking to have their wedding near Dumfries and Galloway. The estate is owned by the Langdale family and is well maintained throughout the year. The venue can host small and intimate weddings up to grand and elaborate celebrations too.
You can get married inside the beautiful church any time of the year, but having your full wedding down in the estates lovely marquee is only available for hire between April and October.
Having shot so many weddings at Dalswinton being a wedding photographer, I now know the estate so well. Here is my guide for your Dalswinton Estate Wedding.
Where is Dalswinton Estate?
Dalswinton Estate is located 7 miles north of Dumfries. Situated on a quiet back road between the villages of Kirkton and Dalswinton, the estate roams across an impressive 160 acres of pristine land.
If you are travelling to Dalswinton from elsewhere, it is roughly one hour thirty from Glasgow/Edinburgh and two and a half hours from Machester. There is a close rail link nearby in Dumfries or Lockerbie, and for international visitors, the nearest airport is Prestwick or Glasgow.
Ceremony Locations at Dalswinton.
There are so many beautiful spaces inside and out for your Dalswinton Estate Wedding, here are the main important ones.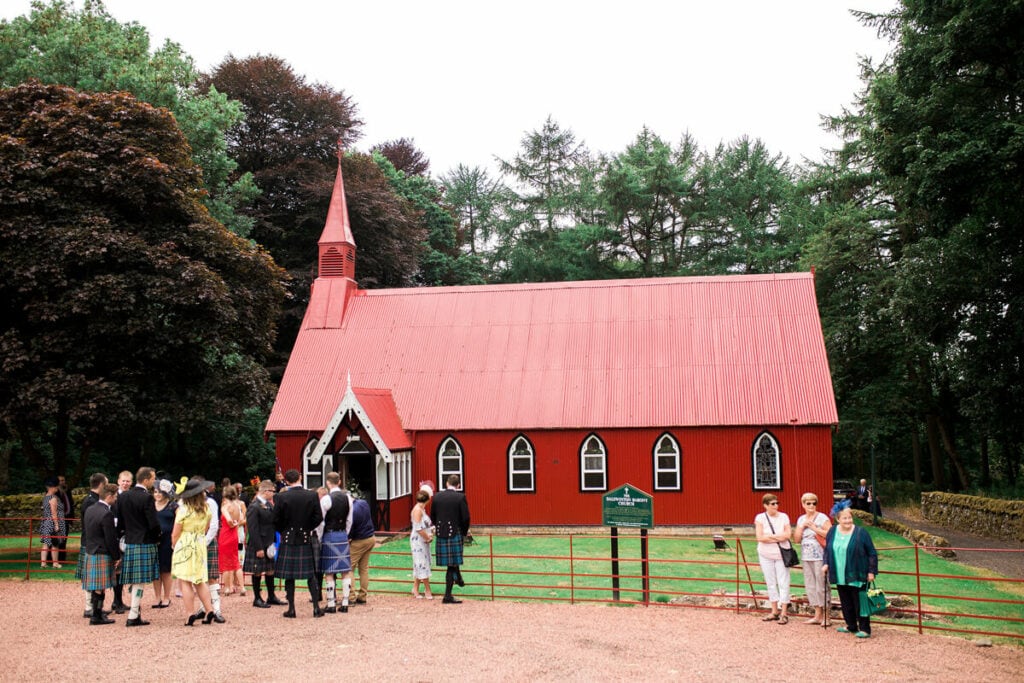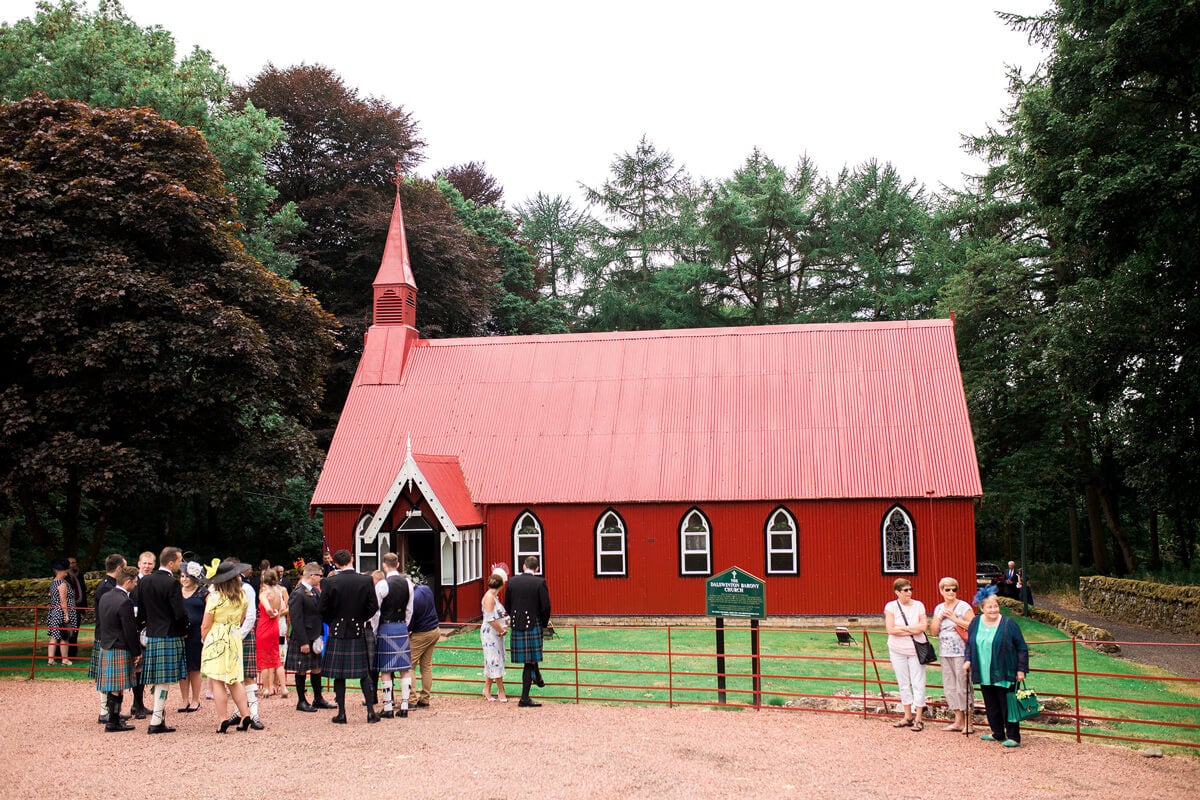 Barony Church Dalswinton.
The Barony Church, known as the wee tin tabernacle, is a missionary style flatpack church that belongs to the estate. This beautiful tin church is painted a vibrant red and stands out perfectly in the trees. The church is non-denominational, meaning that you don't have to have a religious ceremony to use it for your ceremony. Many couples choose the church for its unique wooden interior and stain glass windows, and have a humanist celebrant conduct the ceremony. The church sits around 140 people and is only a 2-minute bus ride or 10 minute way down into the marquee's estate.
Walled Garden.
For couples looking for an outdoor ceremony in better weather, the incredible, walled garden with views out over the estate, Loch is incredible. The garden is directly behind the marquee area, making it very accessible for all guests.
How many guests can I have at a Dalswinton Estate Wedding?
The marquee at Dalswinton holds upwards of 200 guests. If you have a smaller wedding, the marquee can be partitioned off at the back to make the space feel cosy.
Marquee Wedding Dalswiton Estate
Your wedding reception will take place in the beautiful open span marquee. This marquee is a permanent feature during the wedding season and has everything you could want. There is a large oak dancefloor in the corner for all your partying needs, a seating area where guests can sit and relax anyway from the wedding breakfast's main seating area.
Outside, the marquee is covered with premium astroturf, lots of seating around the walled garden and for an additional cost, it can come with a cool little prosecco van!

Photo opportunities at Dalswinton Estate.
The grounds are the picture-perfect location for your couples pictures. Here are just a few of the many great spots at the venue you will fall in love with.
Journey Garden
Located behind the church, this incredible space has been designed with relaxation in mind. It has a great view of Dumfries and the surrounding area. The locally-sourced sandstone features make it an iconic location.
Loch & Castle Ruin
Did you know the estate has its very own Loch? This Loch is a minute walk away from the marquee and has beautiful spots, including the Asian inspired bridge that leads you across the wee island in the middle, complete with Castle ruin! If you are lucky, get some golden hour shots across the Loch!
Accommodation near Dalswinton.
Unfortunately, there is little accommodation at the Dalswinton Estate. However, you are a fifteen-minute bus ride away back to Dumfries, which has many large hotel chains, independent b&bs.
What I love about the Dalswinton Estate Wedding Venue.
Here are just a few reasons why I think it's an excellent venue for weddings.
Can accommodate any size wedding
It looks incredible throughout the year. My favourite time is spring!
Holds up to 200 guests
Several incredible ceremony spaces
Sits in an astonishing estate with lots of history.
An excellent choice for anyone who doesn't want a hotel wedding.
Did you find out guide useful? Here is a link to go straight to their website if you'd like to find out more about this beautiful venue.
Real Weddings at Dalswinton Estate.
Here are just a few of the beautiful weddings I have had the privilege of photographing over the past few years.
Ashley & Chris Dalswinton Wedding.
Chloe & Stuart
Julia & Callum (tie the knot featured wedding)
If you'd like to chat more about wedding photography at the estate, get in touch with me. I'd be happy to help.