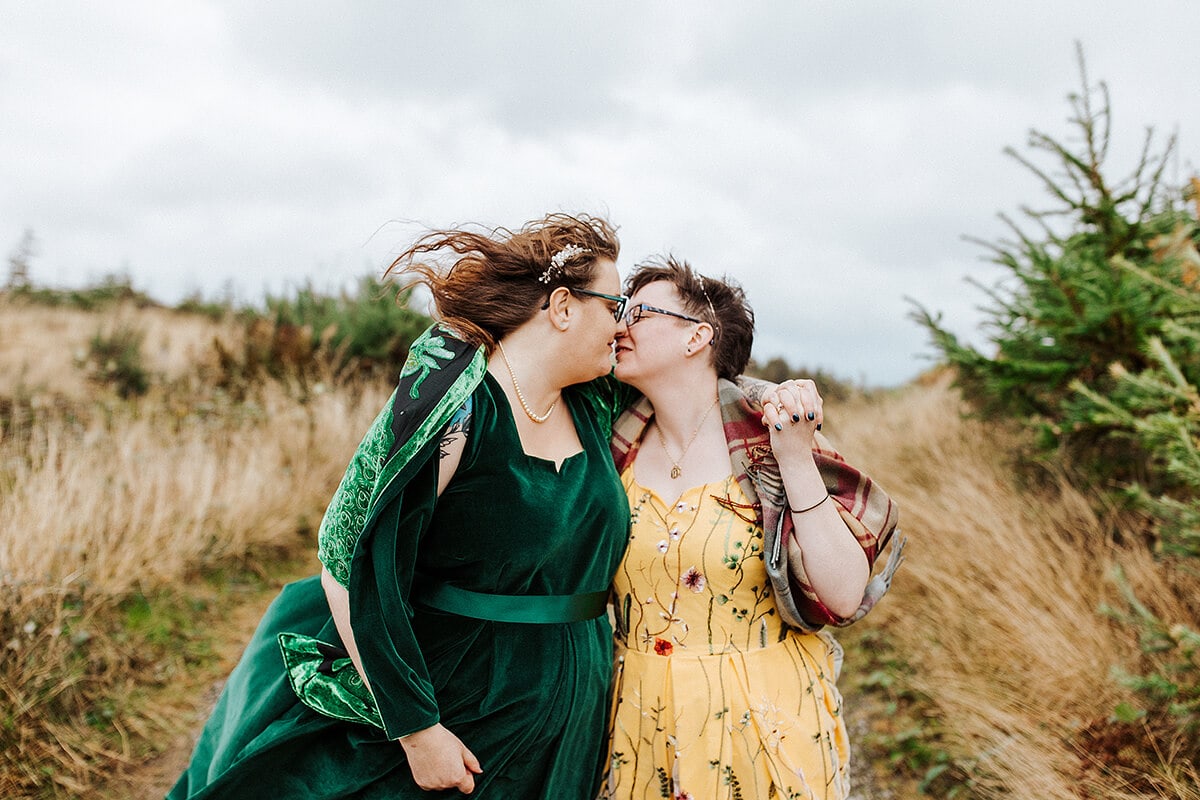 So you are thinking of eloping to Scotland. You may live here and don't want to have a big traditional wedding, or you may be eloping from some exotic part of the world because something about getting married in Scotland draws you in! We have some of the most beautiful scenery here, our sprawling glens, high snowy peaks and castles upon castles we know we have it great here in Scotland. Below are some of the best places to elope Scotland and some of the most romantic too!
Being a Scottish elopement photographer, I have enjoyed visiting so many parts of the beautiful, romantic country so let me share my favourite locations with you all.
1. Dumfries and Galloway Elopements

Dumfries and Galloway is my home county. I was born and raised and still live here to this day. It's one of many places in Scotland that you've never heard of, but I can tell you so many reasons why its an incredible choice for an elopement wedding.
Firstly, elopements started in the county hundreds of years ago at Gretna Green, and this tradition carries on to this day. Dumfries and Galloway is the first county you'll come to when you cross from England, the one thing we do well here is to keep our locations secret. You have to do some travelling into the area to find the best ones, but I will tell you that our remote locations rival Skye or Glencoe Elopements.
You can elope in so many unique locations from one of the many beaches that crawl across the entire 90-mile length of the coast to the beautiful Galloway Forest, one of the world's first dark sky parks! There are even locations that I know have never had a wedding before, and yours could be the first.
The easiest way to get here is by Car. The area is very rural, so to do any real exploring a car is essential—only around three hours from Manchester or an hour and a half from Glasgow or Edinburgh. The closest airport is Glasgow or Prestwick in Ayr for any international couples.
There are tones of amazing Airbnb's and accommodation whilst you stay in the area. You could choose to start your wedding adventure in Dumfries & Galloway, visit some fantastic distilleries then head on North to see the rest of Scotland.
2. Scottish City Elopement, Glasgow or Edinburgh.

Elopements don't have just to be wild and rugged. You can also choose to have a very upscale and cosmopolitan elopement. Glasgow and Edinburgh are two of Scotlands biggest cities and Edinburgh in the capital. They are both cities steeped in history and culture and make for some of the best backdrops for your photos.
There are tons of cool and unique locations in both cities can choose to have your ceremony. Some of my favourites include Edinburgh Zoo, the botanical gardens in Glasgow for all you plant lovers or even up high overlooking Edinburgh's whole on Arthurs Seat which happens to be an extinct volcano.
With fantastic and historic architecture here are some unique locations you can stay in the cities!
The best thing about a city elopement is the never-ending choice of fantastic places to dine. You could book your evening reception at the world-famous Ubiquitous Chip in Glasgow or The Kitchin in Edinburgh.
Good news is that both locations have major airports flying to them all across the globe. If you are only here for a few days, it's worth taking the beautiful trains from Glasgow to Fort Willam that follows along the West Highland Way to take in as much of Scotlands Scenery as possible.
3. Isle of Skye – the best places to elope Scotland.

The Isle of Skye is on every postcard rack in Scotland, and for an excellent reason, the small Island is one of the most picturesque destinations in Scotland's whole. You've all seen amazing elopements online at the Fairypools or the Quaring and fell in love with its rugged beauty.
Skye has some many great places to have your elopement ceremony it's hard to choose. Skye is around 3 to 4 hours from Glasgow, and you will need to get a car to come to visit Skye due to its remote location.
Skye is one if not Scotlands most popular destination to visit after Edinburgh. With the Skye bridge providing 24/7 access, the Isle of Skye gets very busy during the Summer Months. So my advice for eloping to Skye is to book well in advance to have somewhere amazing to stay. Here is a few cool Airbnb including an island with a lighthouse all to yourself. I also suggest eloping during the week and offpeak times, including the evening to avoid the crowds.
Being on the West Coast, you could be treated to a sunset like no other over Ness Point or the Old Man of Storr. You will need to bring two things with you to Skye no matter what time of the year.
1. A Jacket, the west coast of Scotland gets most of the wet weather and showers can appear from nowhere.
2 Midge Repellent, the dreaded midge you've all read about, they are nasty little buggers, but with some extra strong midge repellent, you have nothing to fear. Remember to bring plenty of it!
My favourite part of Skye is the Iconic views of the Island. Most are very easily accessible with short hikes, others with more strenuous ones if you fancy something a bit more adventurous.
4. Glencoe Elopement Photography

Glencoe is one of Scotlands most iconic landscapes and the first place most people think of when they picture Scotland. It has been the scene of so many films, including James Bond. The sprawling valley with towering mountains of Buachaille Etive Mor & Buachaille Etive Beg makes for the picture-perfect elopement locations.
What's excellent about Glencoe is how easy it is to get to, from Glasgow or Edinburgh Glencoe is only around a two-hour drive. The quickest way is up through Calendar, for couples wanting the most scenic route from the Glasgow side then come up past Loch Lomond.
On your way past Bridge of Orchy be sure to stop where the lone piper plays below Rannoch Mor to take it all that chilling and romantic atmosphere. Getting married at Glencoe, especially off the beaten track, I would recommend a weekday elopement as it can be swarming with tourists at the weekend. There are many little hidden places throughout Glencoe I know of, so it pays to have a photographer with insider knowledge.
The closest biggest town to Glencoe is Fort William about an hour away, so most of the accommodation is independent hotels such as the Kingshouse hotel, and also lots of charming little Airbnb stays.
In the winter Glencoe becomes a lot less crowded so if you love snowy mountain tops and outdoor winter activities a winter elopement here could be incredible.
After your elopement, you could take an hours drive north to the Glenfinnan Viaduct, famous from the Harry Potter movies for more fantastic photo opportunities.
5. Loch Lomond Elopements.

A famous Scottish song really captures the essence of this beautiful Loch. "You'll take the high road and I'll take the low road. And I'll be in Scotland afore you.Where me and my true love will never meet again,On the bonnie, bonnie banks of Loch Lomond."
Loch Lomond can be the most incredible elopement destination. Some of my favourite spots around the Loch are Balmaha, where you can climb either a small hill or a huge hill to get a fantastic view over the Loch and the mountains behind. If you'd prefer a church wedding, over the far side of the Loch, you could married in the cute little Church at Luss right by the waterside.
Loch Lomond is very close to Scotland's central belt only around a 30-40 minute drive depending on the traffic. Like most elopement spots in Scotland, getting married during the week will give you the most privacy as Loch Lomond is very popular with locals and can get very busy at the weekend.
There are several unique world-renowned places to eat and stay in and around Loch Lomond, you could even make your way back to Glasgow for some city dining by evening time.
I hope you have enjoyed the list of the best places to elope Scotland, is there anywhere you think I should include? Leave us a comment below. Check our handy all in one Scottish Elopement Guide we made!