Elope in Scotland – Planning Your Dream Scotland Elopement.
Everything you need to know about how to elope in Scotland – from the laws and legalities of eloping overseas, to everything you need to consider as you choose your elopement location! Scotland is one of the best places to elope, and my experience the past five years photographing hundreds of weddings and elopements has provided me with all the local know-how to ensure your day is truly epic!
I'm here to make planning your Scotland elopement as seamless and stress-free as possible – I can recommend local vendors, help you pick the perfect place to stay, and provide support along the way as you finalise details. I am a local Scottish elopement wedding photographer, and my goal is to help you plan the wedding of your dreams in one of the most beautiful places on earth.
What is an elopement wedding?
First, let me explain what a modern elopement is. Maybe you've only heard of elopements as secretive weddings, where the couple runs off to marry? Well, that's only half the story. Elopements actually began in Scotland! Hundreds of years ago, English couples had to be 21 years old to get married without their parents' permission. Marriages also had to take place in a church, which obviously didn't align well with everyone. As a result, couples who were too young or didn't want a church ceremony would cross the border into Scotland and say their vows! The first place they would reach is Gretna Green, where they would be married by the town blacksmith. In conclusion., things have changed a lot since then!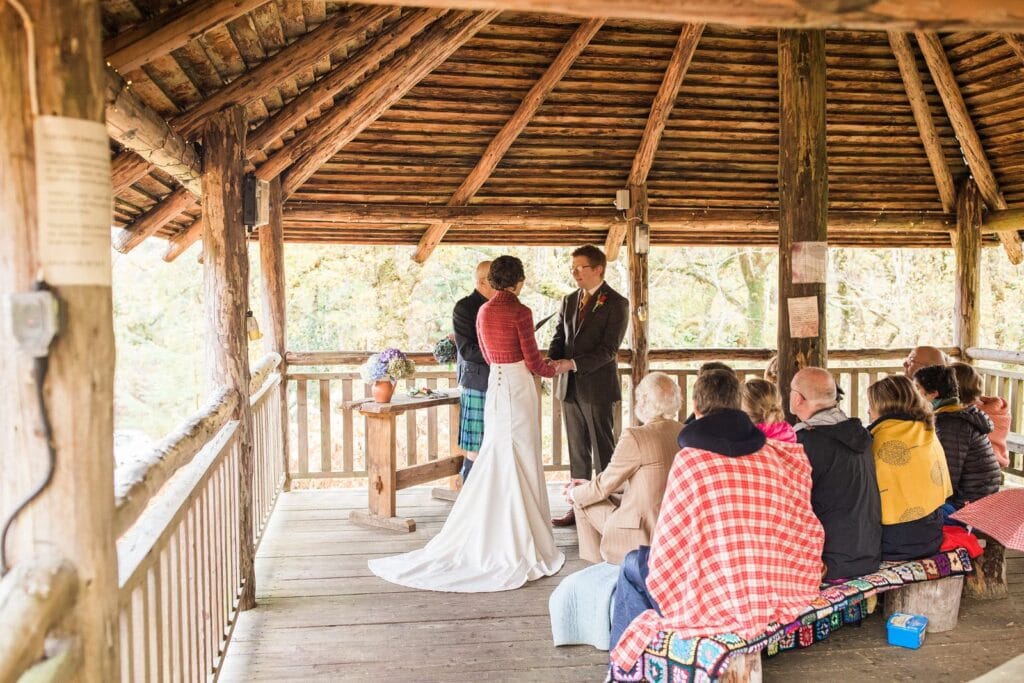 Now, an elopement isn't about getting married in secret – it's about getting married in an intentionally small, authentic ceremony that suits YOU. Elopements aren't about traditions or big parties – they are weddings for couples who cherish 'experience' over 'things' and want a day that feels true to who they are. Of course, you can include traditions, religious beliefs, or anything else that fits your vision for a perfect wedding. The point is that you do what you want to do, not what you feel expected to do.
You can invite guests, or celebrate as a couple. You can get married in a private ceremony, and then have a reception to celebrate with friends and family. There's no formula for a way you need to elope, which is kind of the point! By planning an authentic and true-to-you wedding experience, you're aligning your day with your values and crafting an experience that perfectly represents your unique relationship.
The best thing about eloping? Well, it could be anything.
There are no rules to how you elope!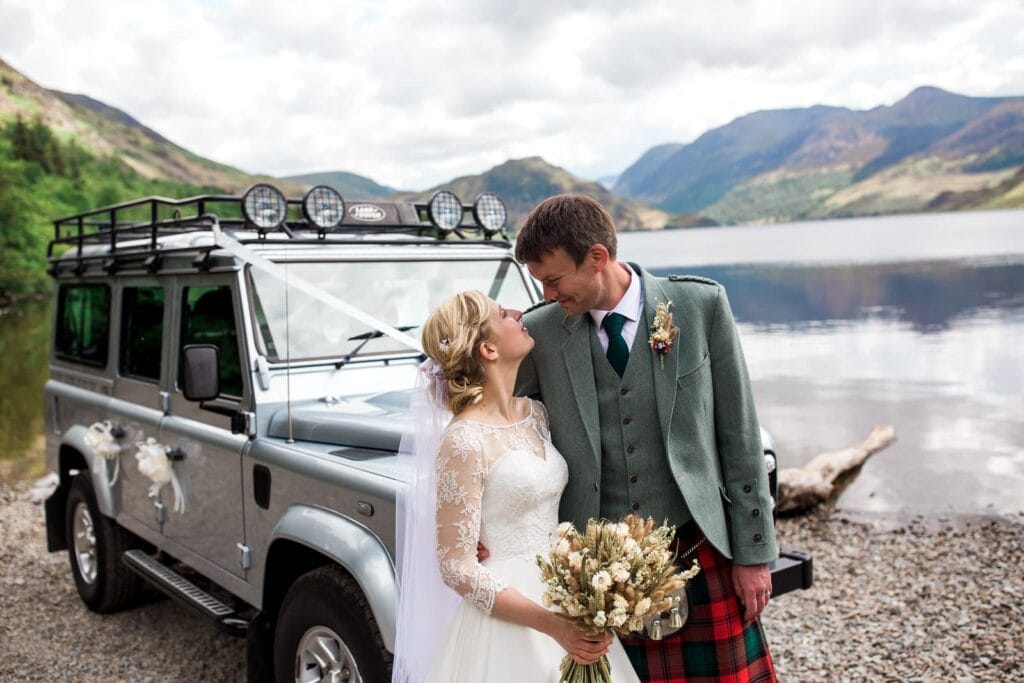 Does the idea of planning a big, traditional wedding fill you with dread? Have you thought, "I wish weddings could be fun, relaxed experiences. Why am I planning this big party for people I won't even get to spend much time with?" Well, you're the perfect person to choose an elopement! Elopements are for couples who are OK with doing things a bit differently – who prefer authentic celebrations over showy parties. It's true that inviting hundreds of guests means you'll hardly get to spend time with any of them! Why not have a more grounded experience with a select group of people instead?
Elopements are a blank canvas – there are no rules, so let your imagination run wild! You get to choose everything about your day. You can include traditions that are meaningful to you, you can write personalised vows that reflect your relationship, and you can get married wherever in the world you want!
Say 'I do' on top of a mountain at sunset, or at sunrise in the field of flowers where you got engaged. Get married in hiking boots instead of heels, or wear white while hiking to your favourite viewpoint. Bring a speaker and curate a playlist, instead of hoping the DJ is vibing the right mood. Enjoy YOUR day – let it be an accurate reflection of you and your partner. If this is putting a smile on your face and inspiring you to get planning – I think a Scottish elopement just might be your dream wedding!
Why Scotland? What makes a Scotland elopement unique?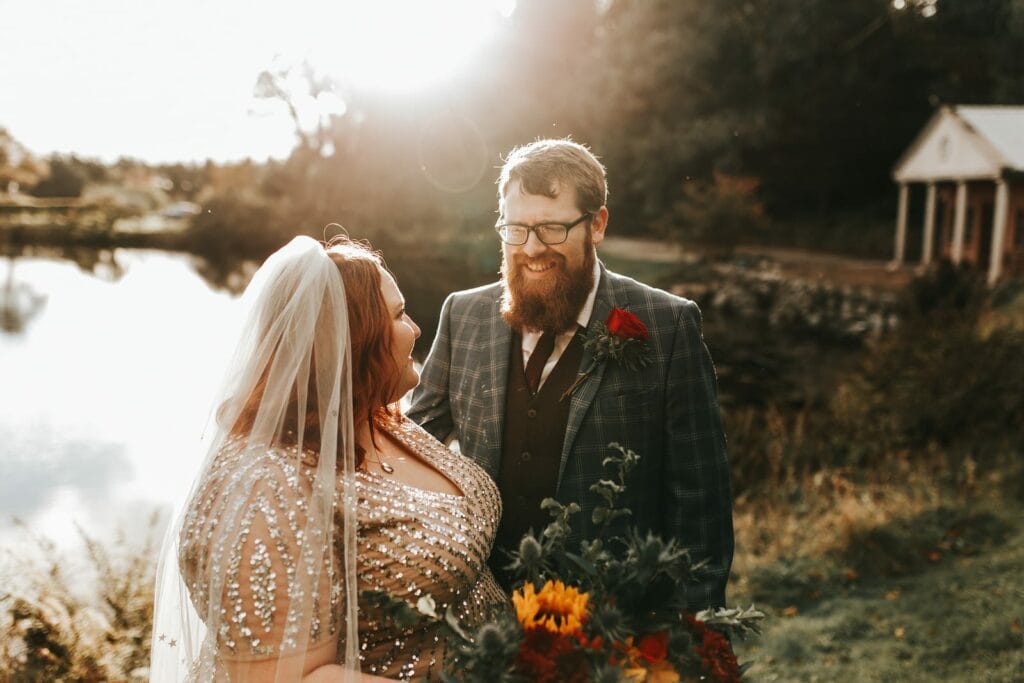 I'll admit it – I'm biased. I've lived in Scotland my whole life and I do love my country so much! I believe Scotland has to be one of the most romantic places in the world. I have a lot of good reasons to back up such a bold claim, and I think you'll agree with me.
From the hustle and bustle of our big cities, Glasgow and Edinburgh, to the wild outdoors of the Scottish Highlands – there's something here for everyone! With thousands of miles of the most picturesque landscapes sitting as backdrops to some of the most stunning historic architecture, your choices for elopement locations are nearly endless. Below, I'll outline some of my favourite places in Scotland to elope. But, here are two reasons why Scotland is the best place to elope:
You can get married anywhere when you Elope in Scotland.
As long as you have permission by the landowner, you can get married anywhere! No rules about being indoors, or in a courthouse or church.

Most public places in Scotland are managed by either the local counsel or the National Trust of Scotland, which oversees sites like Glencoe.
You have three different options for celebrants.
Secular

: Humanist Celebrants provides an alternative to religious ceremonies for people wishing to get married. Humanist weddings are non-religious ceremonies where you have total control over what's said, what happens, and where you get married.

Religious

: Members of a particular religion or faith, i.e. the Church of Scotland can marry you. However, even religious celebrations don't need to take place in a church – you can still get married somewhere beautiful outdoors!

Legal

: Registrars are civil servants appointed by each council to solemnise marriages. However, they have to align the ceremony with more legal stipulations than a humanist celebrant.

I would advise against a registrar for elopements as there can be a lot of barriers to overcome.
How to Choose Your Scotland Ceremony Location.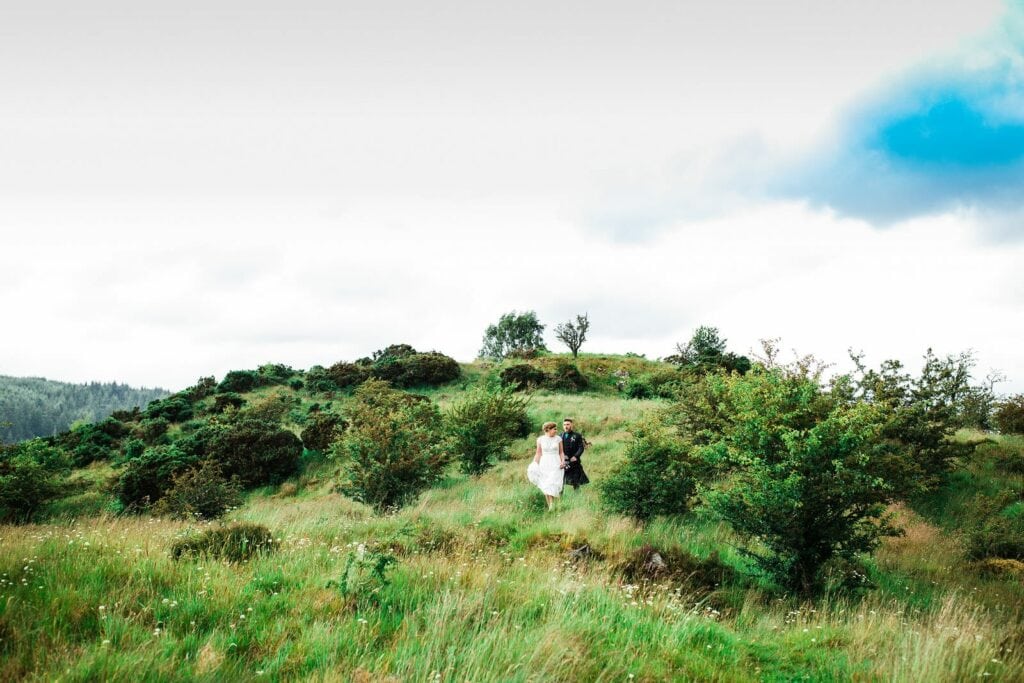 Having an entire country to choose from can be a bit overwhelming – you have endless choices about where you elope! Start by asking yourself what kind of environment you're imagining – forest, mountain, city, or something else. Most wedding locations require permission to hold a ceremony, so it's important you choose a location with enough time to get permission. Though, to be honest, the permissions are more of a formality when it comes to elopements. Yes, you still need permission. However, since many elopements don't require setting up a big event – permissions are more about ensuring our favourite locations get maintained and the natural environment is being cared for.
If you're unsure about where exactly you want to elope – reach out to a local photographer (hello!), because we are the ones who have scouted, explored, and taken note of the best places to elope at the best time. My knowledge and expertise can make a big difference because some sites aren't available year-round, or the vibe is totally different depending on the season, and local know-how is essential to ensuring a successful elopement experience.
Do not worry if you're not 100% sure on the location. Below, I outline a few specific places and general areas that are my favourite for elopements. Go through this list together as a couple and be honest with each other about what you're imagining. You don't have to be certain of your location before reaching out – I'd love to help you find your perfect place.
Some are classic go-to spots, tried and tested. I am so excited to share a few unique places as well, one of them I know has never had a wedding – to think, you could be the first! This list isn't completely comprehensive (that would be way too long), so do get in touch and I will help you find the best place to elope in Scotland!
The Best Scotland Elopement Locations.
The Scottish Highlands
Glencoe Elopement.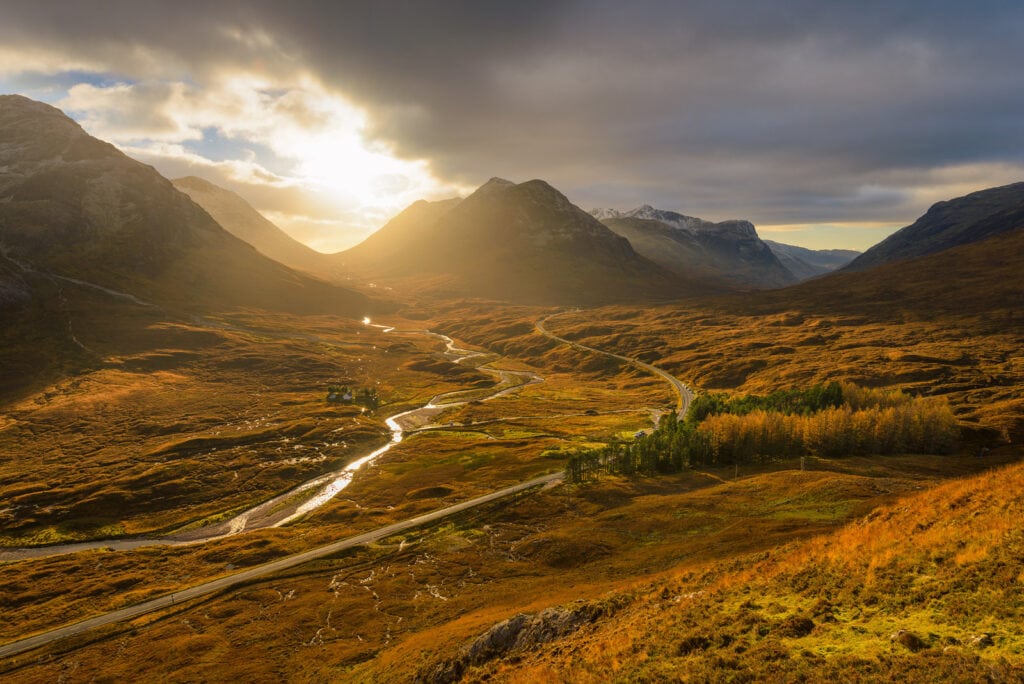 When everyone pictures the Scottish Highlands, they are usually imaging a place called Glencoe – it's what you see on all the postcards. When you're driving toward Glencoe, the first thing you see is Rannoch Mor as you make your way into the Great Glen, with the mountains towering above you. This area is more suited toward very small elopements, though there are locations available for bigger weddings too.
Glencoe is super accessible from anywhere in Scotland. I highly recommend driving so you can stop anywhere and take in the views. The closest airport and city is Glasgow – about two hours away. Edinburgh is not much further – about 2.5 hours. There are lots of places to stay nearby, including some very cool hotels and rentals. If you are planning a winter elopement, Glencoe has its own Ski Lift and runs you should check out!
Side note: If you love James Bond, you will find the location of a few Scenes from Skyfall as you drive through. Another super popular place to visit just an hour away is the Glenfinnan Viaduct. You may remember this from the Harry Potter Films!
Loch Lomond & The Trossachs Elopements.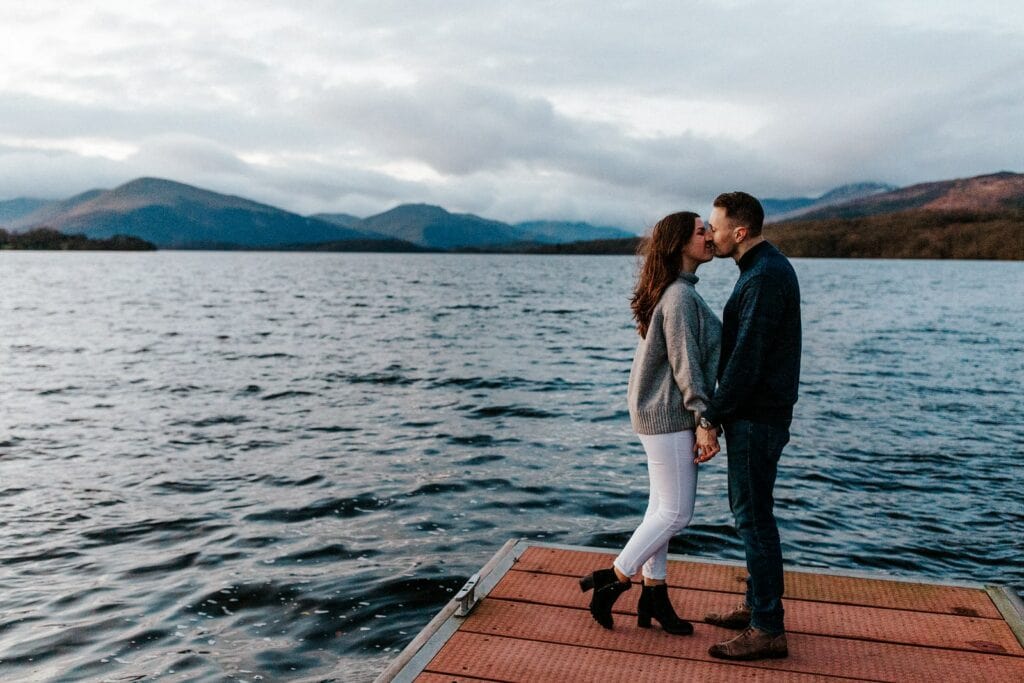 Loch Lomond and the Trossachs may well be the closest of these locations to civilisation of the largest cities. The stunning national park covers a vast distance of over 700 square miles.
Loch Lomond is the most prominent feature of the park, and my favourite place around the loch has to be Balmaha. You can get a bird's eye view of the loch from the viewpoint at the edge of the Village. Alternatively, adventurous elopers could hike to the top of Conic Hill for amazing panoramic views.
An easily accessible tourist location, Loch Lomond sits on the southern edge of the Scottish highlands. It is considered a mini version of the Highlands, and has truly gorgeous landscapes.
Isle of Skye Elopement.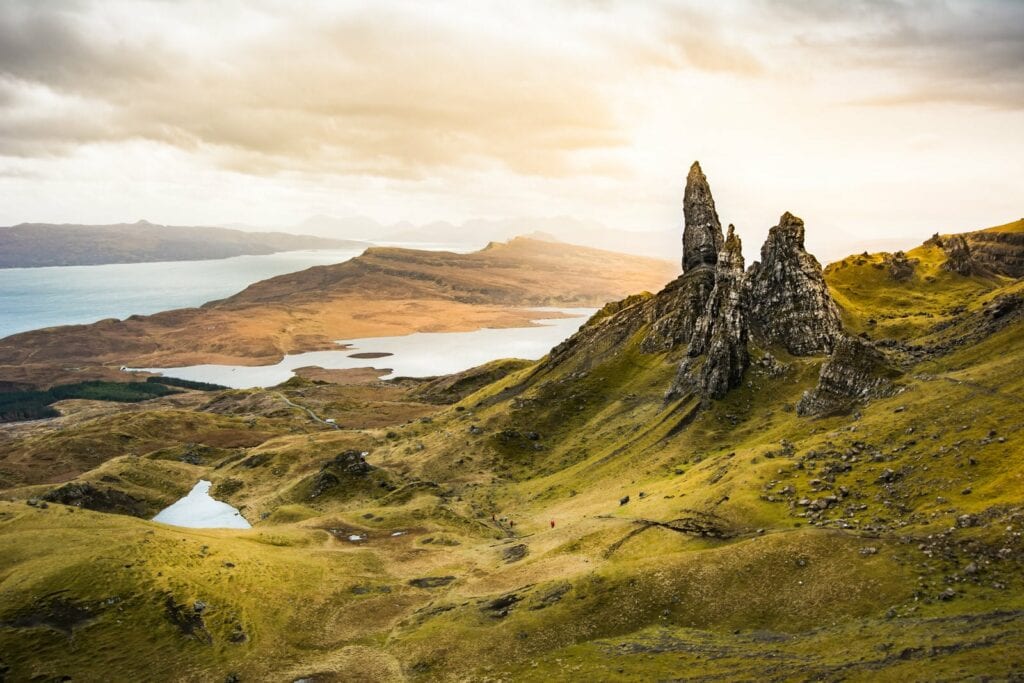 Skye is always a bucket list location for anyone visiting Scotland. We all get wanderlust when we visit Skye! There are so many iconic locations on Skyes that it deserves its own list here. I'd highly recommend the fairy pools, the old man o Storr, and Neist Point LightHouse.
Skye is situated on the westernmost edge of Scotland and therefore can have some of the most dramatic weather. You can go from blustering gale-force winds, which makes for incredibly dramatic images! If you're lucky, you might witness a sunset with the deepest colours that strike across Skyes rugged landscape.
Skye is one of the most remote locations in Scotland and yet is wildly busy during the summer season. Lastly, I highly recommend making the most of Skye by staying a few days as there is so much to do!
Dumfries & Galloway Elopement.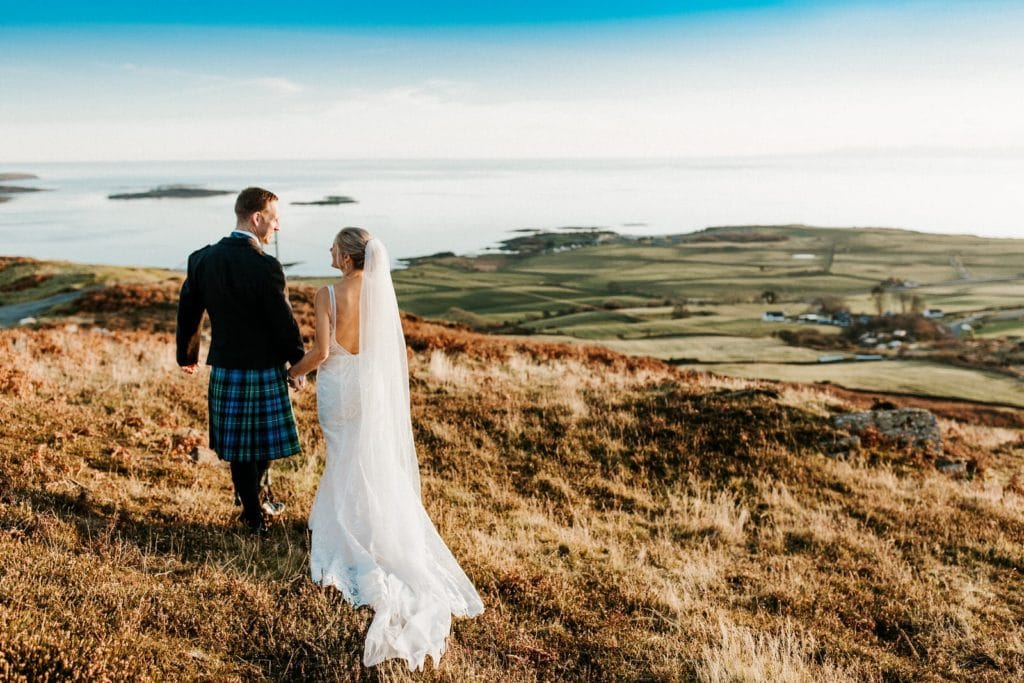 Dumfries and Galloway is my home county and in my opinion, the most underrated elopement destination in Scotland. Everyone who travels from England drives right past on their way North and they are missing out.
This corner of the country has everything you could want for an adventurous elopement. Situated on the South West Coast of Scotland, covered large rolling hills and moorland nearly 90 miles of exposed and rugged Coastline. Also, we have Scotland's largest forest in Galloway, which is home to the first Dark Sky Park!
Please don't pass this county by the wayside, everyone who comes falls in love with its charm.
Glasgow & Edinburgh City Elopements.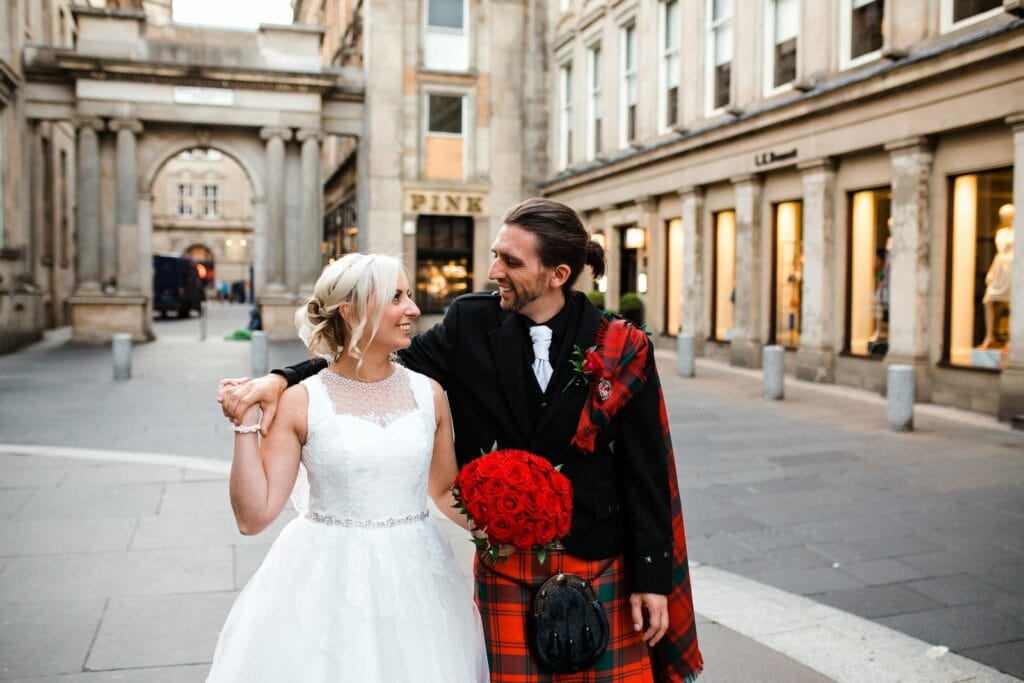 Eloping doesn't always have to be in the countryside. Lots of couples love the idea of a city elopement – something with a classy cosmopolitan vibe. Glasgow and Edinburgh, Scotland's two major cities, are incredible choices for elopements.
Glasgow is steep in years of history but has a very modern and trendy atmosphere to it. You could get lost and explore for days here. Make sure you pick up a battered Mars Bar on your wedding day. It's good luck for me at least!
Edinburgh is the nation's capital city, full of historic buildings including Edinburgh Castle. Like most cities, Edinburgh can be very busy, especially during the Fringe Festival in August. Most of Scotland is very accessible and not too far from Glasgow and Edinburgh, which makes both cities great places to homebase from when you elope in Scotland.
Western Isles of Scotland Elopement.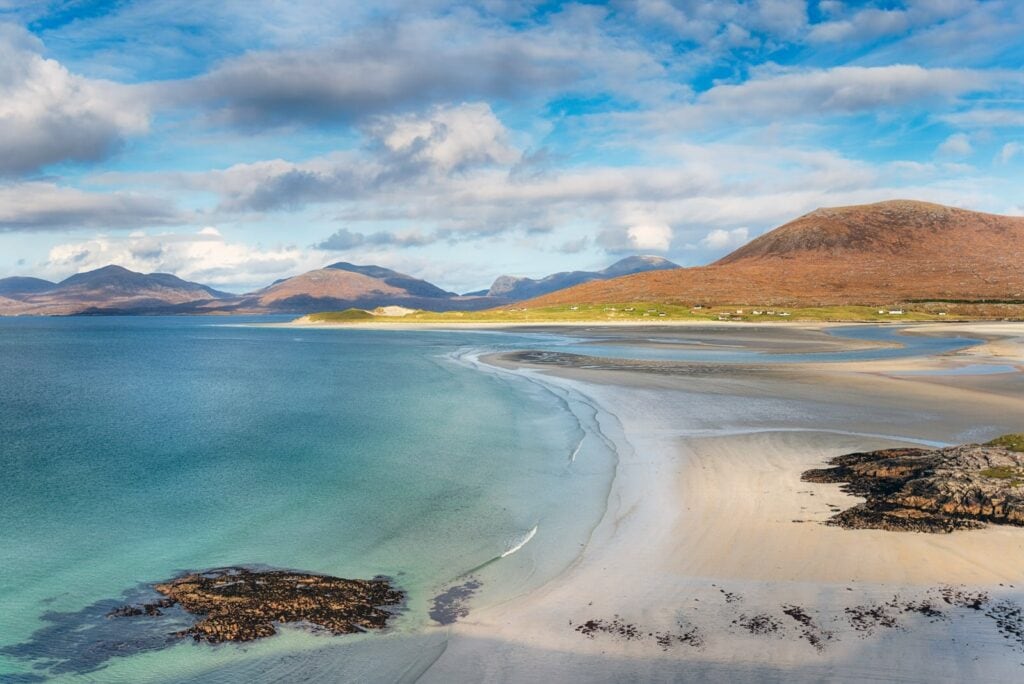 Skye is the largest of the Scotland Islands, which is why it had an entire section above dedicated to it. But there are so many wondrous Western Isles you could elope in Scotland too.
One of the most popular ways to see the Isles is by ferry, and many are simply inaccessible any other way. The Island Hopper tickets let you go island hopping which is super fun, and a great way to get out and adventure amongst the isles!
Lots of the Western Isles are world-famous for their white-sand beaches. These beaches in pictures look like something out of a tropical island getaway! One of the most famous is the Luskentyre beach on the Isle of Harris, which is just one boat ride from Skye.
If you want a remote and rugged location for your elopement, any of Scotland's west coast islands are ideal.
Bonus: Loch Enoch
At the time of writing, this location has never had a wedding held here before! How amazing would it be for you to be the first couple? Hit me up if you want it to be you!
Loch Enoch is on the Southern Upland Way, located in Dumfries & Galloway. This adventurous elopement location is definitely for those who love to hike together.
Climbing up from Loch Troll, the hike takes roughly 6 hours roundtrip. At the top, you will see Merrick – the tallest mountain in southwest Scotland. Just below it is Loch Enoch, a beautiful freshwater Loch which has a serene granite sand beach. Loch Enoch has to be one of the most rugged and remote locations you could get married in all of Scotland! Imagine saying your vows at the edge of the lochside and going for a celebratory but chilly dip afterwards!
Planning your Scottish Elopement.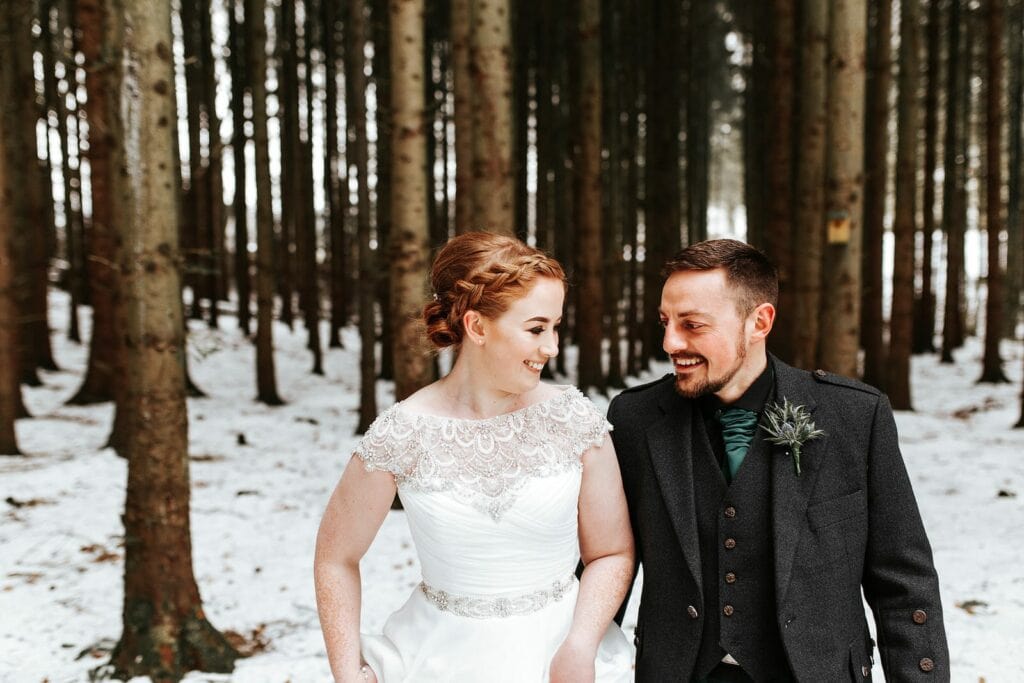 Best time of the year to get married in Scotland.
Scotland is a country where you can see all forms of weather in just one day. Particularly in the winter months, it's not unusual to see rain, snow, and sun in the span of hours! You can blame a lot of this on Scotland's varied topography – storms brew dramatically between the lowlands and the highlands.
During the winter, any part of Scotland can be covered in snow. If the conditions are just right, there might be a lot of snow! If you're interested in a winter wonderland elopement – come to Scotland between November and March. The farther north you go into the mountains, the better change for a snow-capped romance.
If you're looking for more consistent weather, come to Scotland between May and July, or September through early October. Those months are when you're least likely to get caught in a storm. The colour of the landscape changes a lot with the seasons too. Late August brings sprawling heather blooms, and springtime produces the colorful flowers of rhoderiums, bluebell, and wild garlic. Summer has the deepest green hues from grass and ferns, whereas autumn's yellow colors turn the moodland into a golden paradise.
Whenever you elope in Scotland, be prepared for surprises! The landscape brings truly moody weather, even when you'd least expect it. However, if you're up for an adventure, Scotland is truly paradise!
What to wear when you Elope to Scotland.
Dressing for your Scottish Elopement Wedding can be done however you like. I would, however, recommend a few items: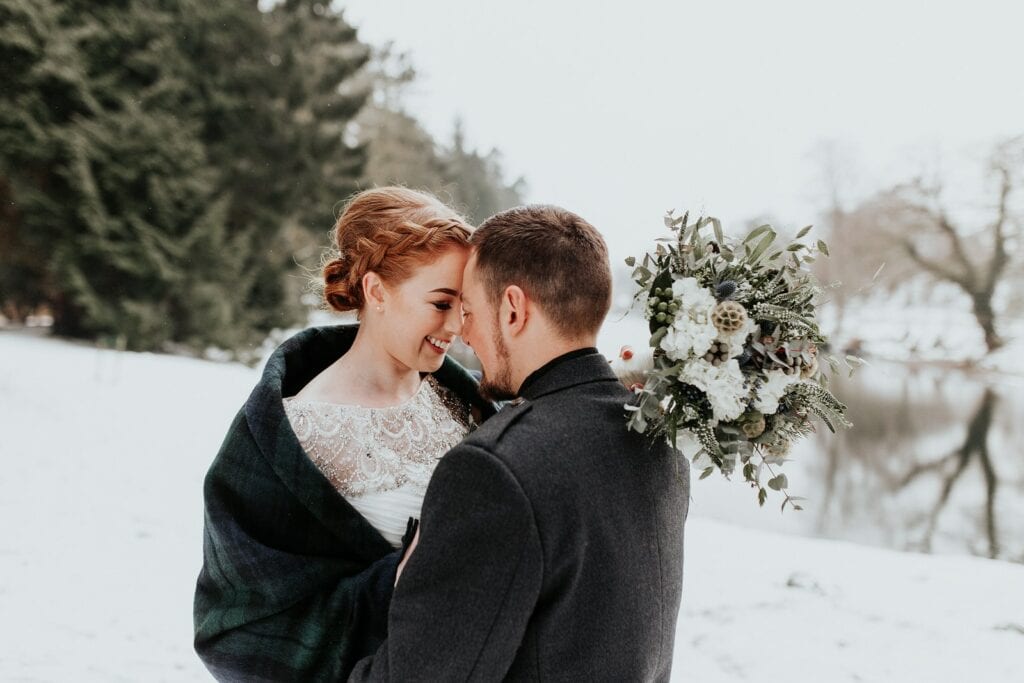 Adequate Footwear.

Many picturesque parts of Scotland are a little off the beaten track. I highly recommend bringing a few sets of footwear. Having something sturdy and waterproof to be able to walk in, as well as to and from locations, is a must!

If you'd like to have fancy footwear in your photos, bring along those shoes to change when you get to your ceremony location.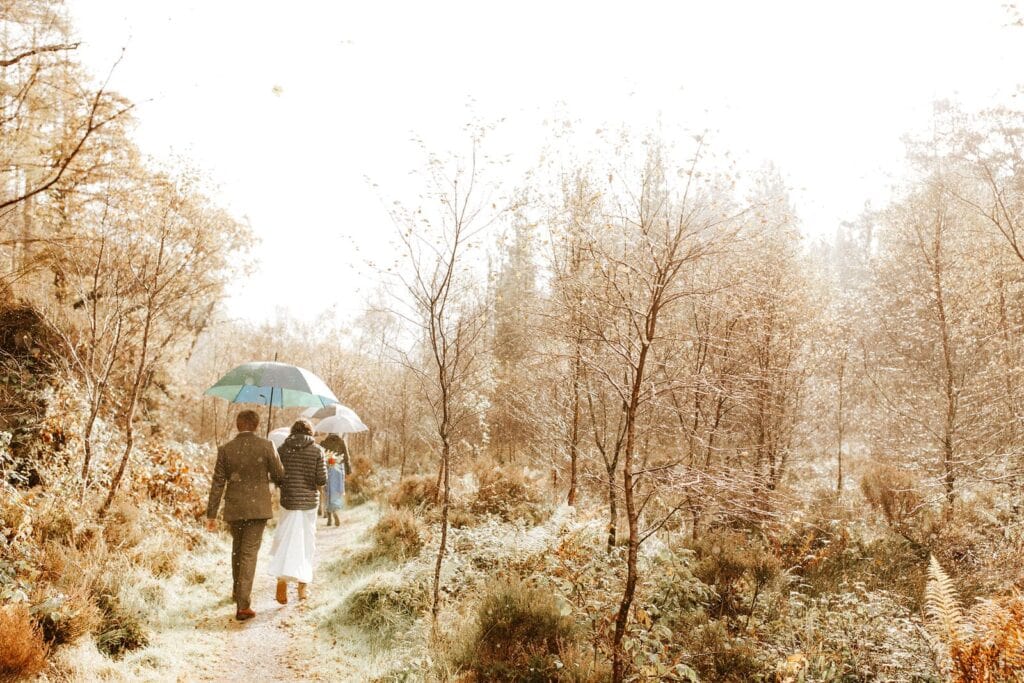 Scotland's weather changes pretty quickly, even on the most glorious of days. Bringing a few extra layers means that if you are a little cold, you can throw on a nice cozy jacket. If you get too warm, you can always take a layer off.

A waterproof jacket is something we still keep in the car in Scotland, and we often need it. Ironically, you will find most Scots outside, caught in the rain without a jacket, and they don't care!

I always have a couple umbrellas with me at all times just encase However, it's very Scottish to decide "what the hell" and embrace the raw and wild elements.

Blankets.
Blankets and shawls are wonderful items to bring to your elopement. If one of you is in a kilt, you can get blankets and wraps to match most tartans. They can add much-needed warmth during those winter elopements. Plus, a blanket or shawl can give you somewhere to sit if the ground is a little wet too.

If you would like to add a little Scottish flair to your wedding, there are lots of local brand choices. You can wear a kilt, or tartan dress. Many people around the world are descendants of Scotland, and it is worthwhile finding if you have a family tartan. If you don't have one, you can pick whichever one you like most!


Troo's (Scottish Tartan Trousers) are super smart too. Harris tweed is another popular Scottish product available in everything from flat caps to trousers.

Accessories.

Bouquets can include classic local flowers like thistle, which is Scotland's national flower. Other beautiful native plants and flowers include heather, bog myrtle and cottongrass, to name a few.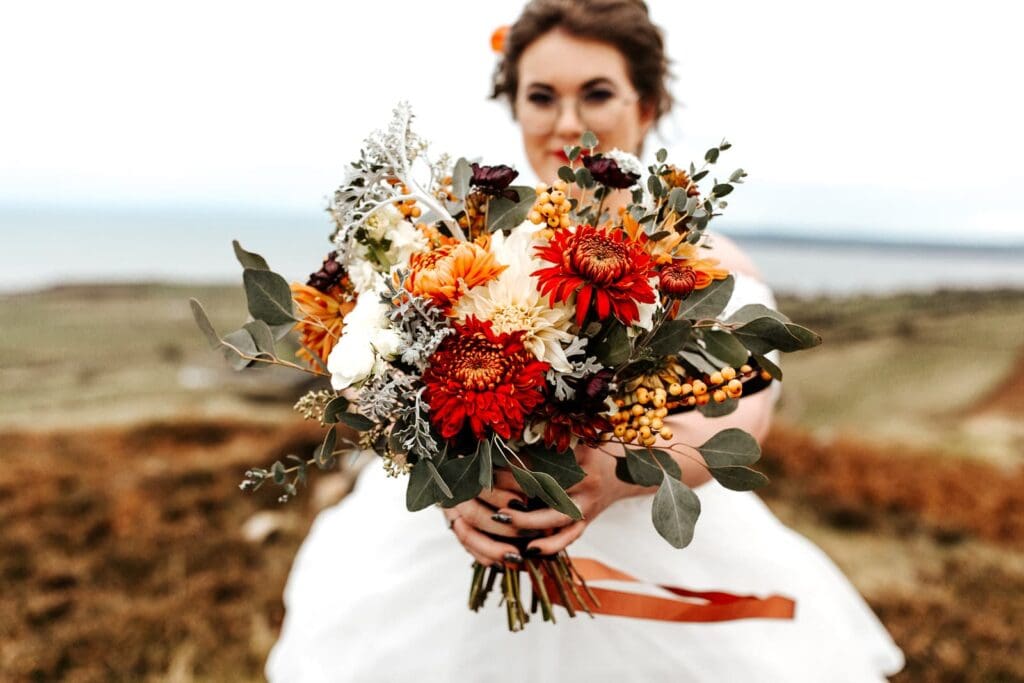 Benefits of a weekday elopement.
Most weddings you've been to were probably on the weekend, right? It makes a ton of sense to plan for a Saturday or Sunday when you're inviting guests. But, if you're eloping with a small group, or just the two of you, there are many benefits to planning a weekday elopement. Many couples who reach out to me about Scotland elopements don't have a set-in-stone date yet. I will always recommend they choose a weekday, unless we're in the off season, because you're much less likely to run into crowds during the week. Aside from privacy, there are many reasons you should consider a weekday elopement: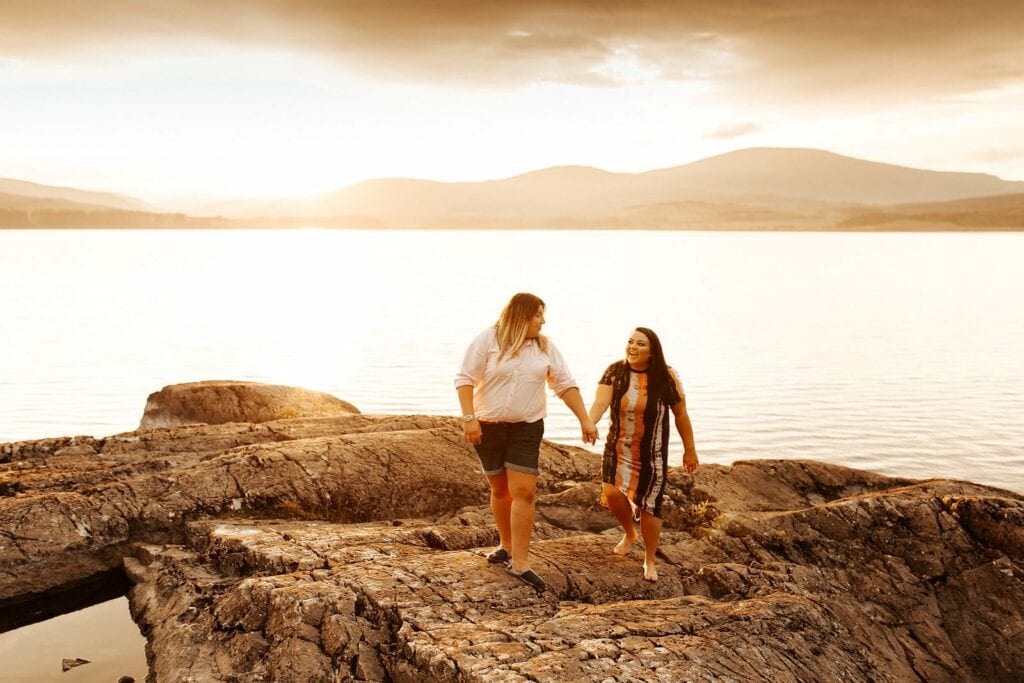 It's much cheaper. Firstly, weekday elopements are much cheaper than the weekend. If you're getting married at a venue, they often inflate the prices on the weekend. But also travel is more expensive – flights, car rentals, and accommodation will be consistently cheaper midweek.
More intimate and private.I know you will want as much privacy and seclusion for your wedding as is possible. No one wants a stream of tourists watching their ceremonies. Weekdays give you the best possible chance to have the intimacy you desire for your wedding, especially in the most popular areas. Leaving the ceremony until later in the day, once the tour buses depart, can make things a lot quieter.
Easier booking process.This point leads from the first one. Scotland is incredibly busy during the tourist season, nowhere more so than the Highlands. Therefore, booking during the week, and even in the offseason, makes finding great places to stay much easier.
A wider choice of vendors.The best vendors book up one to two years in advance for weekend weddings. However, weekday elopements are still more rare and therefore you have a greater chance of booking a vendor you really like midweek.
Make a vacation of it.Come to Scotland for multiple days and don't feel pressured to immediately elope. Spend a couple days getting to know the area and being a tourist yourself, and then you'll especially appreciate the privacy and intimacy of a midweek elopement. Lastly, if you're travelling from abroad, it's such a fantastic idea to plan a holiday to coincide with your elopement. Even with just a few short days or a week, you can see so much of Scotland – celebrate your marriage and soak up all the atmosphere and romance!
How to Elope in Scotland: A Checklist.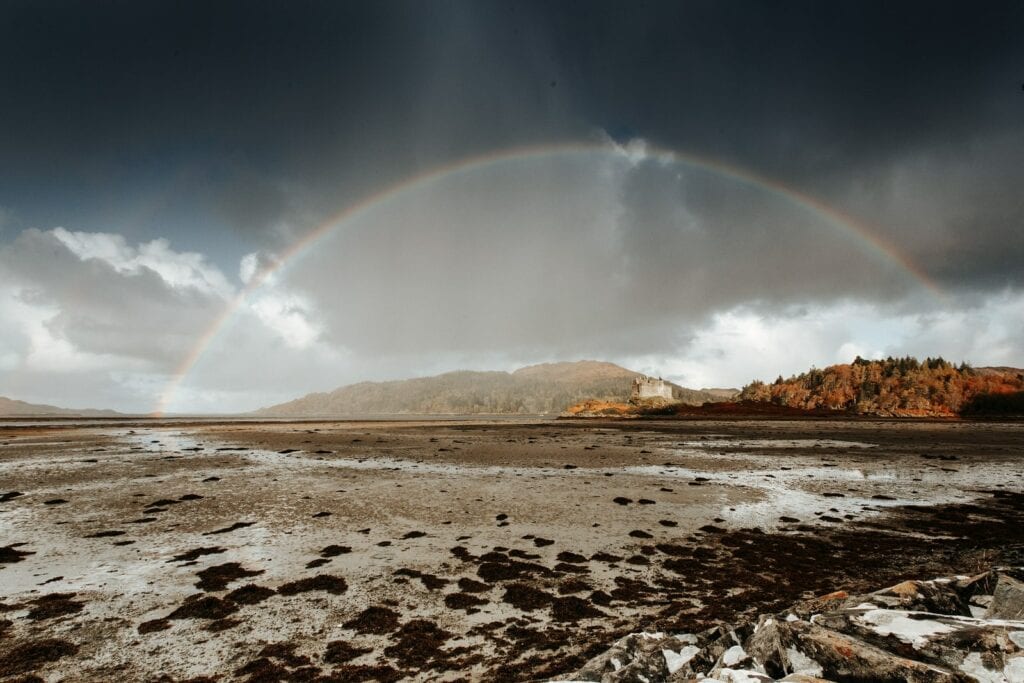 At this point, I hope I've convinced you that Scotland is the best place to elope. From our cities, to our forests, to our mountains – the possibilities are endless! Now that you've chosen bonnie wee Scotland as your elopement location, it's time to start planning your elope in Scotland.
I am available to help guide my couples as early on in their planning process as they would like. Essentially, wherever you are, now is a great time to reach out! Planning an elopement is a lot more relaxed than planning a big traditional wedding, but there's still a few good places to start.
Start dreaming.

Before you begin to book anything, start by imagining your perfect wedding day.

The tools I would suggest for this are either Instagram or Pinterest. Begin searching for images that align with your vision.

Think about what you both love to do, and what brought you together. Do you enjoy hiking? Maybe hiking to the summit of one of Scotland's amazing Monroes for a sunrise ceremony is your ideal wedding.

If you'd rather be a little bit less adventurous and more relaxed, so much of Scotland's best scenery is still so accessible!


Pick your location and when you'd like to elope.

After you've thought about what would make the best day ever, it's now time to pick the location.

Once you've handpicked your area make sure you find out who owns the land so you can ask for permission.

One thing to take into consideration is the time year you plan to marry. Parts of the Highlands can be covered in deep snow throughout the winter months, so plan your wardrobe accordingly.

Furthermore, consider avoiding bank holiday weekends, which happen at different points in the year. These long weekends can be jam-packed, and I would avoid them if you want privacy. Summer holidays also can be busy and run from July to mid-August.

Choose a photographer.

First, Whoever you choose as your wedding photographer will be one vendor who is there to help with all the planning and logistics of your wedding. I highly recommend you start by booking them first. You can find lots of amazing Scotland Elopement Photographers on search engines, Pinterest, or Facebook groups too. It's always worthwhile speaking to couples you find along the way who have already eloped and ask for recommendations. When you find a few photographers whose work you absolutely adore, then go through their website.

Get in touch with your must-haves and arrange a video meeting or phone call. There are two essential categories your photographer must meet. First, you must love all their work – do a deep dive and be sure their style is right for you. Second, and even more crucial, you both must click and bond.

The clients who book me love my personality. They say it's like talking to an old friend you've known forever, and they know we are going to have such a great time together. I go all-in making the whole experience as fun and exciting as possible. It's truly an honour to still be friends with so many of my clients years later.

My advice is to find someone who makes you feel safe, listens to your story and your concerns – the kind of person who wants you to have the most kickass wedding ever!

Choose an officiant/celebrant & other vendors.

Next person on your list is your celebrant. Personally, my experience has been that eloping in Scotland is far more straightforward with a humanist wedding. But, of course you can get married in a religious ceremony too.

Humanists tend to be much more flexible for travel. You can find a list of humanists on the website dedicated to the Humanist Society for Scotland.

Once you have your location in place, you can look for more localised services including florists, hair and makeup artists, and perhaps (if you want that Scottish flavour) a piper.

Photographers and some vendors are open to travel wherever you may take us, but some vendors might just serve a specific place.

The Legal Part

The formal part of your Scottish elopement: filling in the paperwork to make it official.

Here is a fantastic guide from Citizens advice on everything you need to know about getting married in Scotland.

You will hear everyone talking about your M10 Form. The M10 is your formal marriage notice form, essentially letting the council you are getting married.

Things aren't standardised across all of Scotland. Each council's registrar has its specific process of doing things. The notices must be given to the registrar no earlier than three months and no later than 28 days before the date of the marriage.

You will both need to supply other relevant documents, including a birth certificate, passport, and address of where you'll stay.

However if you are coming from abroad, you will also need a marriage visa.

All couples eloping in Scotland from a country outside the European Economic Area (EEA) and Switzerland, (such as Australia, Canada, or the United States) require a Marriage Visa for clearance into the country.

Witnesses.

In Scotland, you require two witnesses to be present during your ceremony and fill in witness forms to make your marriage official.

Anyone over the age of 18 can act as a witness, including myself. I have had the honour of being a witness at many elopements. I can also help find an additional witness should you need it. If you are bringing friends or family along, they can be your witnesses too.

Marriage Schedule.

The registrar will complete all your paperwork, then they will produce your Marriage Schedule. The Marriage Schedule is the piece of paperwork you fill in on the wedding day.

The registrar will be in touch to let you know it's ready for collection. You must pick it up in person and is only available for collection seven days before the wedding.

Bring your Schedule with you on your elopement day!
Alright, that's everything you'll need to do before the wedding to be prepared for your Scotland elopement! Now, the big day will arrive and everything will be absolutely perfect – with just enough surprises to keep you on your toes. Scotland has a way of keeping these things exciting! Enjoy every moment of your day and don't worry about anything – you've done the work and followed the plan, now it's coming to fruition!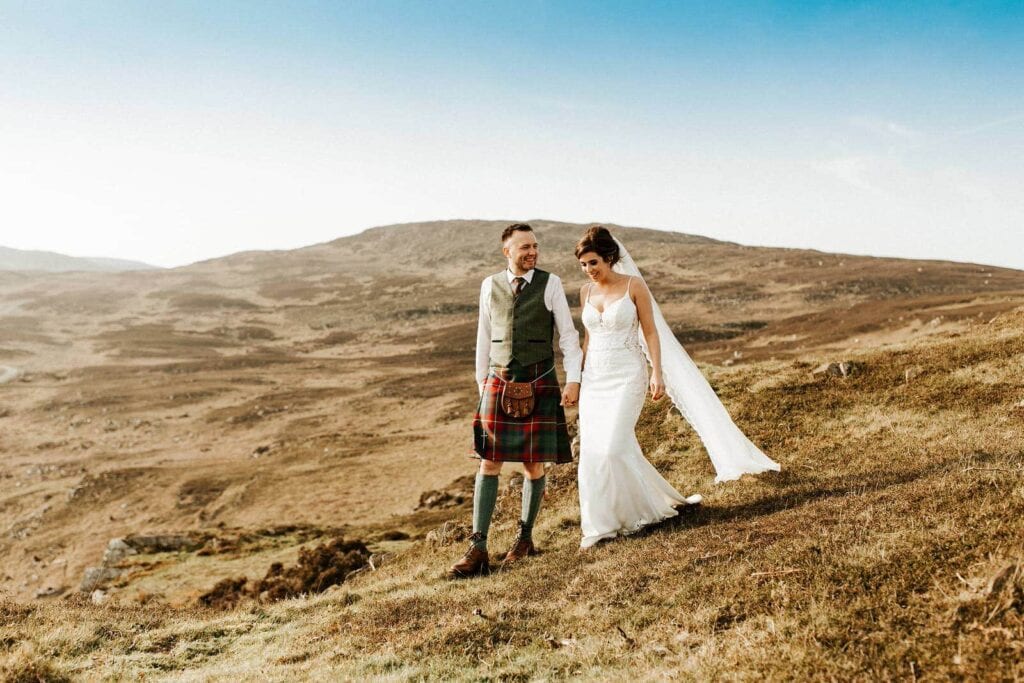 After the big day.
So you have said your I do's, it's all done except one final step.
If you go to a Registrar and have them conduct a civil ceremony for you both, they will take the paperwork away with them. However, if you have a religious or humanist ceremony, you need to return the marriage schedule to the Registrar's office no later than three days after the ceremony. Furthermore this paperwork is the piece of the puzzle for them to make it official, so make sure you submit it – I always recommend doing it the next day, so you don't forget!
Top tips for when you Elope in Scotland.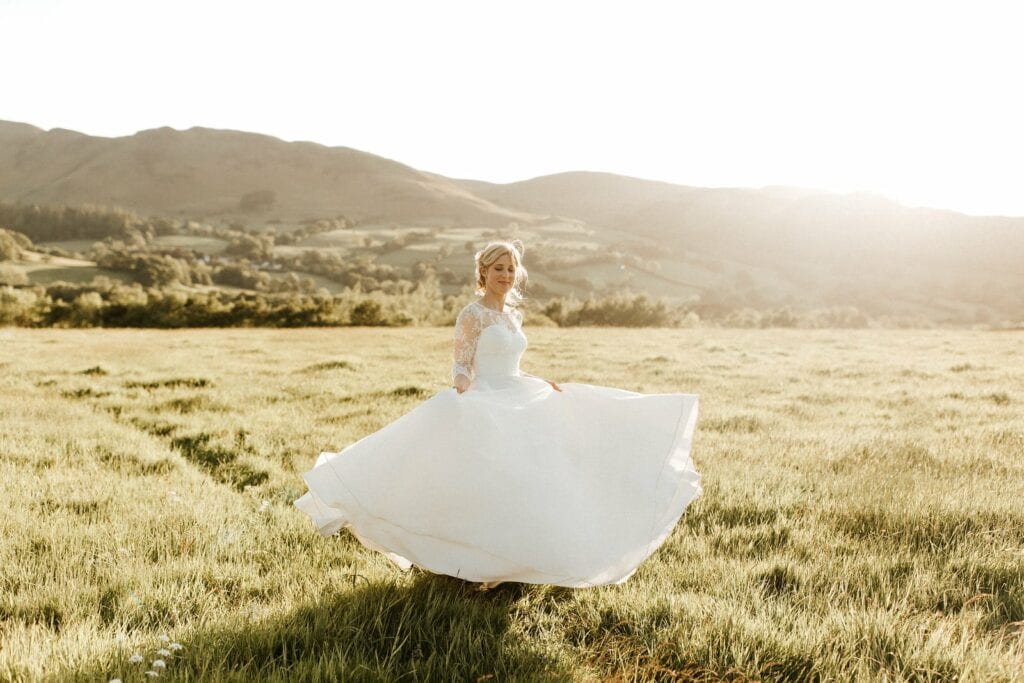 I want to leave you with a few handy tips and information that I feel would be very useful when you elope in Scotland:
Midge/Tick Repellent.

I am sure you all know of the infamous Scottish Midge. Quite unlike any other bugs we have, their bites are not sore but very irritating. If you are in the wilds of Scotland, bring insect/midge repellent. You don't want to be swatting your arms during your vows! These insects are more prevalent in the summer months.

Comfortable clothing for adventure elopements is a must.

If you are planning a hiking/adventure elopement, make sure your clothing is comfortable to move in. Some dresses are far freer moving than others – be sure to try sitting down, bending, and raising your arms to ensure it's nice and comfortable. The same advice goes for suits – no one wants split trousers! Also, check they fit over the shoes you will be wearing.

Incorporate Scottish Wedding Traditions.


Scotland has many beautiful wedding traditions dating back thousands of years that couples to this date still love. Here are a few of my favourites if that's something you want as part of your ceremony:

Handfasting

. A handfasting ceremony is an ancient tradition and its the origin of the phrase 'tie the knot' comes from. It dates back to the medieval era, where couples who wanted to get married would bind their hands together in matrimony by tying knots of cloth around their hands.

Drinking from the Quaich.

This tradition is for anyone who loves a tipple. The Quaich is often referred to as the loving cup – you each take a handle to take a drink, showing you trust one another to share the cup. Traditionally, you fill the Quaich with Scottish Whiskey. However, you can pour whatever drink you both like into it! This tradition began when two clans would meet together. It's a symbolic bond all about trust, because by taking two hands to pass and drink they couldn't reach for their dagger.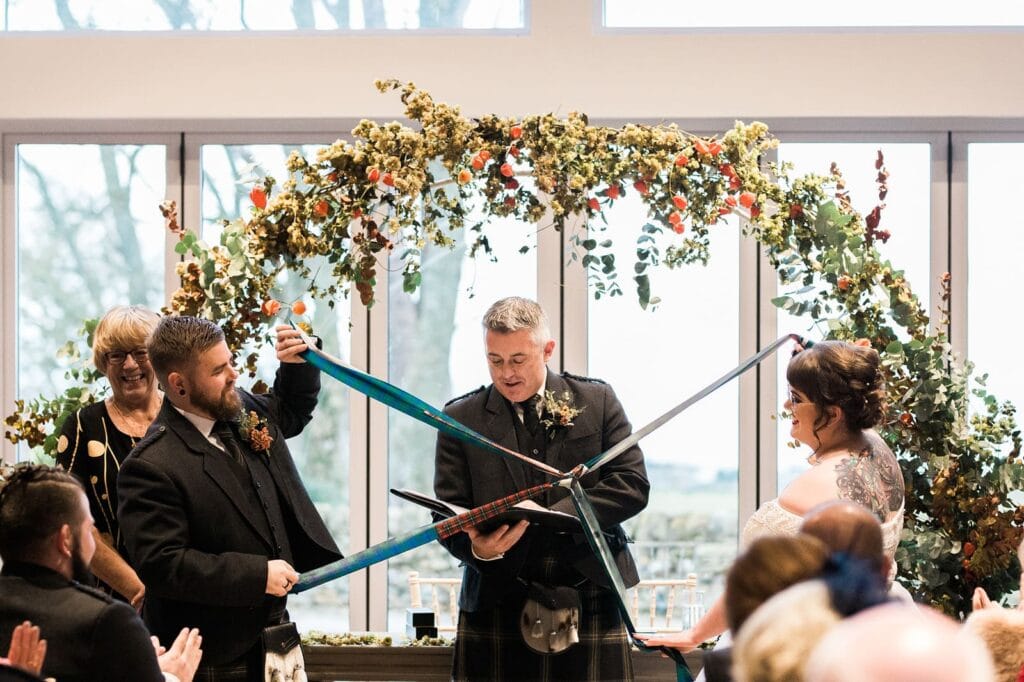 Extra Luck: Lastly, A few good luck traditions on your wedding day include a sixpence in the bride's shoe, and sprig of white heather hidden in the bouquet.
These traditions are unusual, and I love them as part of Scottish history. However, this is your wedding – do whatever makes you both happy. That is the most important thing, after all.
Now, you know all there is to know to begin planning to Elope in Scotland!
Would you like to dig even deeper? Reach out and contact me – I'd love to hear all about your vision!