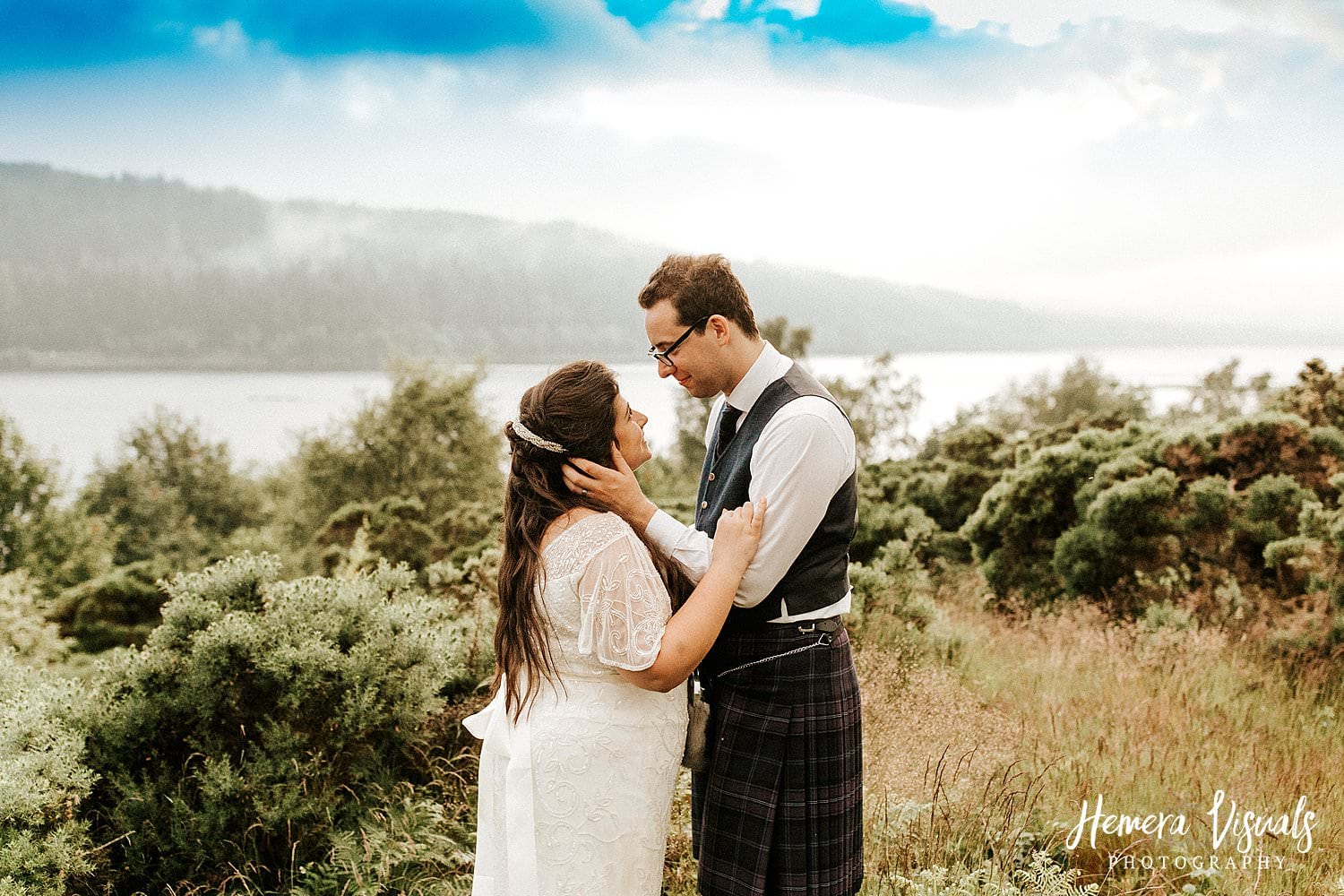 Loch Ken Wedding | Ashton & Bobby
First time I met Ashton & Bobby they told me wanted a very relaxed and intimate water wedding. They told me that is why they chose a Lock Ken Wedding at the Galloway Activity Centre. Nestled in the heart of the picturesque Galloway hills and right on a private beach at Loch Ken. The closest town of Castle Douglas is 20 minutes away with nothing around for miles it truly is a secret secluded wedding venue! Ashton chose to get ready at home with her family, bridal party and cute flower girl labrador. An adorable moment was when Ashtons Dad got to see her for the first time in the dress. With such a beautiful garden, it was definitely the ideal location. Meanwhile, Bobby got ready at the wedding venue with his Groomsmen. There are lots on unusual tent pitches and eco bothies at the venue, with more at Loch Ken Holiday Park. The ceremony took place inside due to the torrential rain. After the ceremony, it dried up which let us get outside for pictures in what is a beautiful part of the country. Of course, we headed into the hills for their couples shoot, with the Barron moorland between their toes, stunning vista looking across Loch Ken and the Galloways hills there was no better place to be. However, I recommend a sturdy pair of footwear for this as its rather rough ground.
Panoramic view over the shores of Loch Ken and Galloway Forest Park.
The evening reception was held in the converted boat shed, complete with hay bay seating. The evening entertainment was provided by Ross at RKDJ. Shortly after leaving and saying my goodbyes, I notice a strange ball in the sky, it was the Sun. Blaring through the clouds in the perfect golden hour. I immediately turn the car around as fast as I can and head back to the venue searching for the couple. I found the couple outside chatting with friends. The couple replied: 'Absolutely let's do this!' We spend the next 10 minutes moving with the light trying to capture all the area, and as you'll see from the final images, it was well worth it. To conclude, it was such a fantastic wedding to be apart of Ashton & Bobby. Most importantly thank you so much for your kindness, generosity and great all-round vibes. Venue : Galloway Activity Centre DJ :
RKDJ