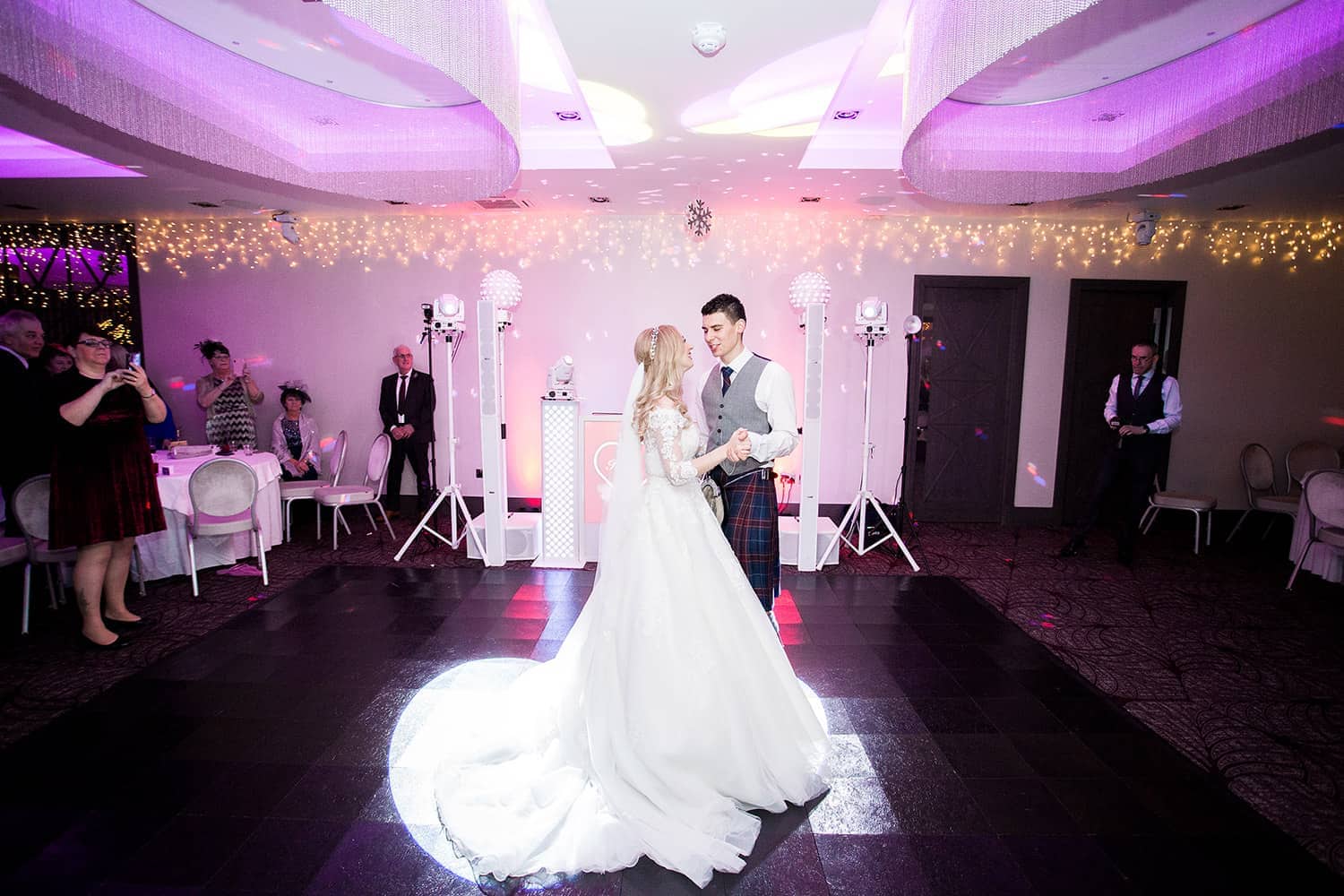 Dumfries Wedding Disco Hire. Why use a Professional DJ Service.
Jingles Dumfries Wedding Disco has taken the time to answer some FAQ and reasons why you should choose a professional DJ.
So you've decided on a Wedding Disco Before you book and during the booking process you can tell a lot about a DJ business. How did they respond to your initial email/phone call? How long did they take to reply? Do they have the correct licenses and insurance to DJ your Wedding? Don't be afraid to ask your DJ these questions before you book.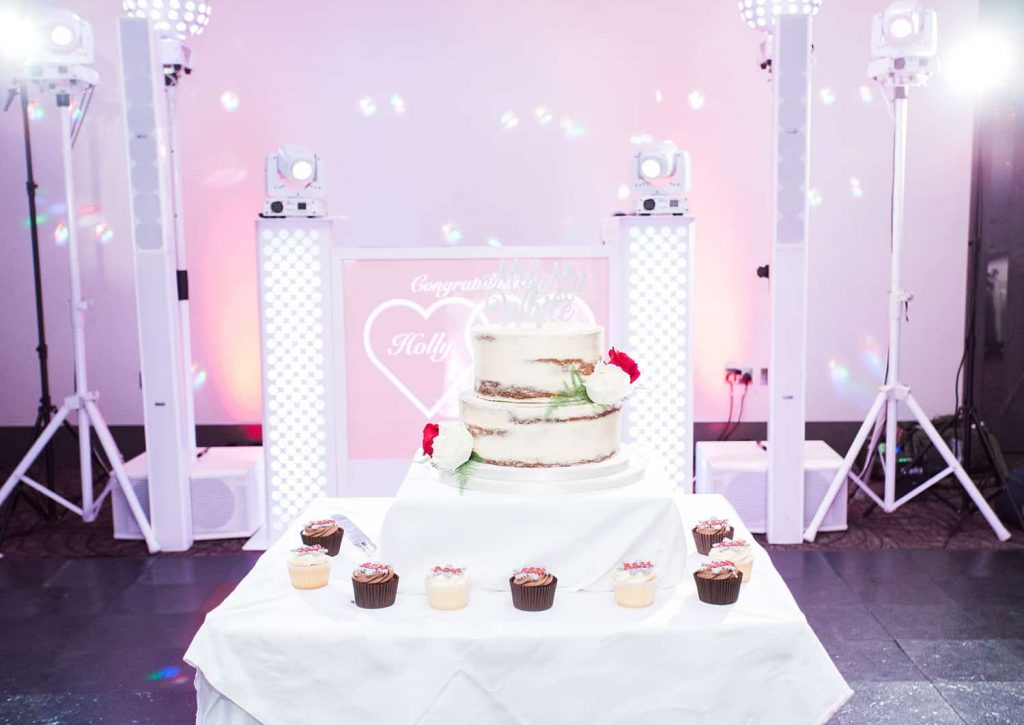 If they are a professional disco they will be able to answer yes to all of your questions. Your Wedding DJ should give you the option to submit a playlist in advance of your Wedding to allow you to choose some of the music that is played on the night.
Choose the correct disco and the DJ will have the experience to work out what type of music will get everyone on the dance floor. Not everyone likes the same type of music. After all, the type of music that your younger guests may like will possibly not suit your parents or grand parents! It is important that the DJ has a large enough collection of music to suit all ages.

A professional Wedding DJ will also have tried and tested ways to encourage your guests onto the dance floor if at any point there is a lull in the dancing.

The wedding disco hire you choose to go with has to look and sound good. It also has to be set up on time. The last thing you want is someone turning up (late) with scruffy equipment and have cables lying about everywhere. It doesn't make for a good look on your wedding photographs and won't help with the atmosphere at your wedding.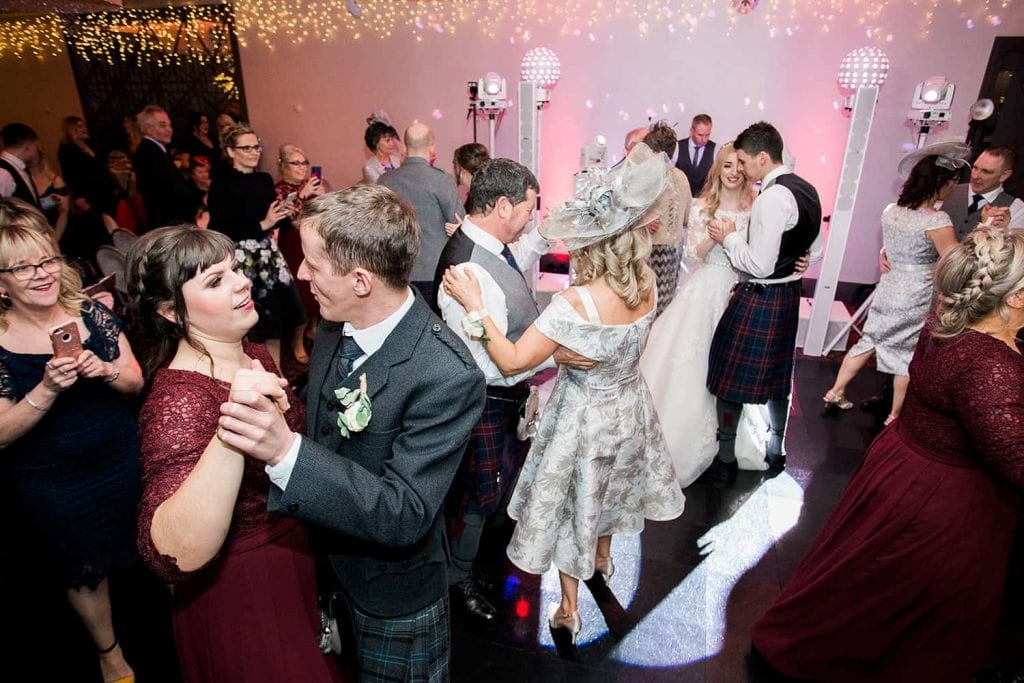 Here are a few things you should ask your DJ or you should find out before booking them.
Do they have public liability insurance?
Has all of their equipment been PAT tested (electrically tested for safety)
Do they have an up to date website, and does the website have details where you are able to contact them in the event that you have any concerns?
Have you checked their Facebook page? Are there current photos of weddings they have been booked for? Do they have good reviews on Facebook?
When booking your DJ do they offer a contract for your piece of mind.
Is your DJ happy to accept a playlist of music you and your guests would like to hear and will they put cards on the tables to allow for requests on the night of your wedding?
Are they happy to meet with you before you have booked and also just before your wedding (very important, to allow you to discuss your music requirements and the format of the evening)?
On the evening of your wedding is the DJ happy to make announcements e.g. cutting the cake, announcing the bride and groom and wedding party onto the dancefloor etc etc.
Will your DJ be able to 'read the crowd' and adapt the music accordingly?
Will your DJ be dressed for the occasion?
And finally, and also very important, will your wedding disco look tidy and "look the part" at your wedding/in your wedding photographs?
At Jingles Professional Wedding Disco we are proud to say that we have provided disco entertainment for hundreds of weddings over the years, so know a thing or two about what makes a great wedding celebration. We are recommended by many local hotels and wedding venues. We have a unique disco unit that looks (and sounds) amazing. It won't spoil your first dance photos! And last but not least we are part of Dumfries and Galloway's Trusted Trader Scheme and are approved by trading standards.
You can find Mikes' details below ;
Contact Details
Mike Wells
www.jinglesdisco.com
www.facebook.com/jinglesdisco