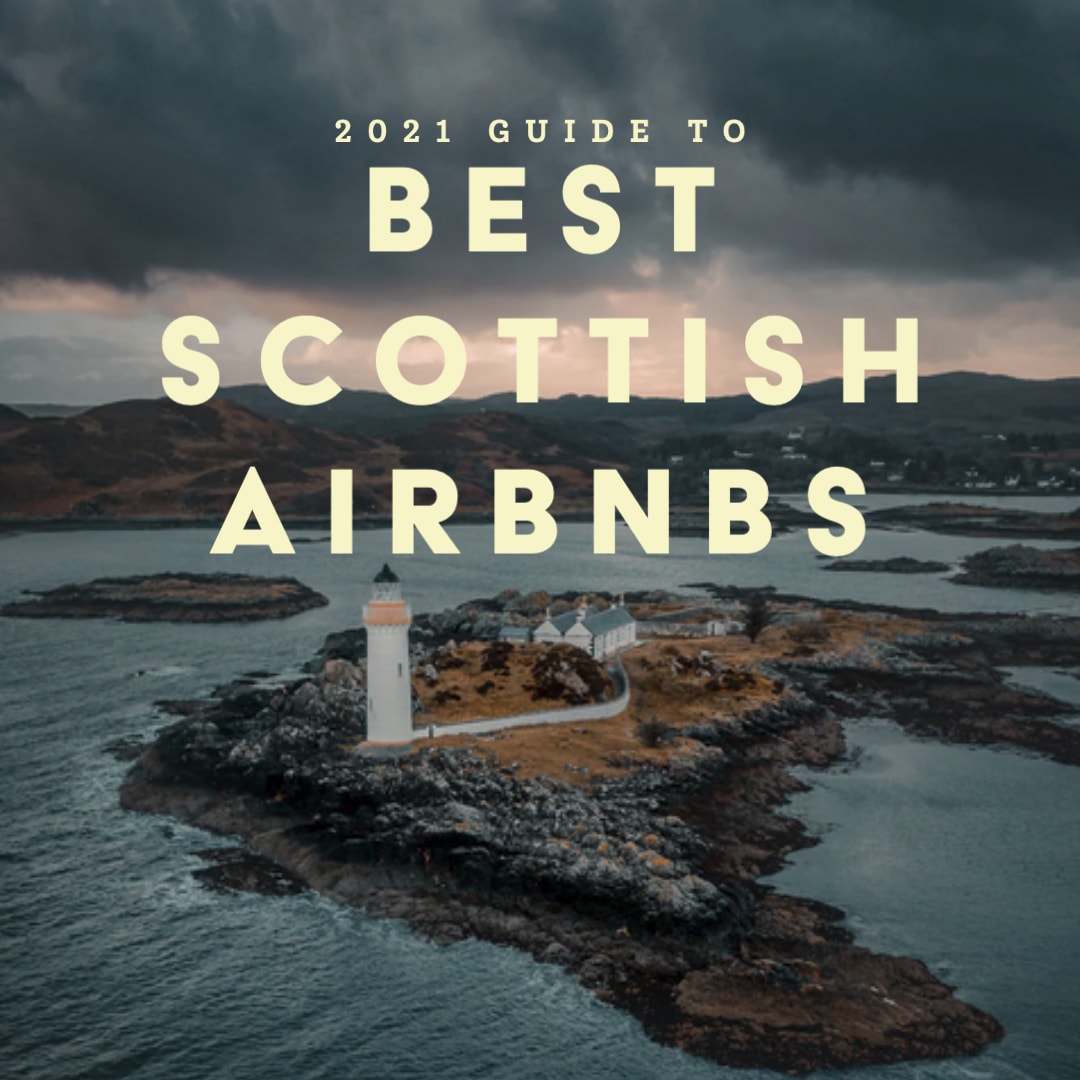 No matter where you go, you need a fantastic place to stay, so we've created a list of the best Airbnb Scotland Locations we have found. It's 2021, the worlds changed a lot in the past year, but there is one thing we are all excited to do when we can after being cooped up, and that is travel. Scotland has so many beautiful places you can explore, from our Historic towns and cities like Glasgow and Edinburgh to the Stunning Highlands & Islands. There is something for everyone. Here's a few of our favourite find of Airbnbs to stay in whilst you visit Scotland. This list only scratched the surface so be sure to click through the link to find other unique places to stay.

This may be the only Airbnb Scotland situated on its very own private island Island! The cottage can accommodate up to eight people in four double bedrooms. You can explore the whole island as you have it all to yourself. Arrive by boat or on foot, to your very own little haven of tranquillity, where you can slow down, watch the waves, the wildlife and simply just 'be' in a place so peaceful you'll find it hard to leave. With four spacious rooms, the cottage is well-appointed and beautifully decorated.

Ever wanted to be king or queen of your own Castle even if only for a Week? Well ,now you can. You can call Castle Lachlan Home whilst you visit Scotland and let everyone know who's in charge. Castle Lachlan is a beautiful Scottish baronial house set in an estate of 1500 acres and provides the perfect setting for your Scottish Castle vacation. Situated in Strathlachlan on the shores of Loch Fyne, Argyll and about 1 hour 15 min drive from Glasgow Airport. Castle Lachlan is a great holiday location both for families and groups of friends.

Ever wanted to stay in an old and beautiful Church? The Old Church and Lodge are set in private grounds in a semi-rural location. This is the perfect location for a large gathering to take place as the Old Church sleeps up to 14 people. With lots of family reunions to happen in a post covid world what better place to get together with all your loved ones?

You have seen some stunning Airbnb Scotland period buildings now here is a new modern eco-friendly beach house in Elle. A quote directly from the owners. Midrock is a genuinely unique architecturally designed eco beach house. It has won awards for its design and functionality. Located right on Ruby Bay beach it is only a few minutes walk from The Ship Inn, Elie Beach and the water sports centre. The house has impressive views and is consequently very bright and airy. Its extremely comfortable winter or summer and gives you loads of space to relax in. The Bothy is attached to the house but separated by the hallway, so a great place for teenagers or extra family members.

This building is the most expensive on the Airbnb Scotland search at £1500. I know that may throw a lot of people off but with 15 individual bedrooms that is £100 per room per night which is incredible value. If you are planning a large family gathering or coming from aboard to stay with lots of family then this could be the dream location!

You take the high road and I'll take the low road and I'll be in Scotland before you. Some classic lyrics of 'Loch Lomond'. You too could have your own romantic tale whilst visiting Loch Lomond. Loch Lomond is so close to Glasgow & Edinburgh its one of those places you should visit whilst in Scotland.This 10 bedroom luxury accommodation is located a stones throw away from the beautiful shores of Loch Lomond with the picturesque Trossachs National Park as a perfect back drop.

One of the most popular things you can do in Scotland if you are outdoorsy and adventurous is walk the West Highland Way. Crianlarich is located slap bang in the middle of this path. So this could be a fantastic stop whilst you walk the West Highland Way have a beautiful night or two in this luxury 4 bedroom chalet. Another amazing idea is if you are visiting Glasgow you could also take the West Highland train, which has some of the best views to be found in Scotland. It stops right in Crianlarich, and you can continue on the train all the way to Fort William where Ben Nevis Awaits!

I know everyone has heard of the Isle of Skye or Glencoe, such iconic beautiful places in Scotland. But what if I told you right as you come across the Border from England there is a beautiful country that has incredible scenery without the insane amount of tourists as the Highlands? Well, welcome to Dumfries & Galloway. You could have an entire luxury built villa that faces right onto the beach at the end of the garden. You could use this as the perfect weekend getaway with a few of your friends or perhaps a couples retreat? Here is a list of our favourite
Dumfries and Galloway Airbnb
locations.

Every single visitor who comes to Scotland wants to Visit the Isle of Skye. You've all seen the incredible scenery, the rolling mountains, fairy pools and castles that every postcard makes you fall in love with! This 4 bedroom house sleeps up to 8 guests and is situated on a remote headland in the North East of Skye, Croft41 is a stylish and contemporary house located just six miles from Uig. What makes this evening more appealing is the thought of a warm and relaxing hot tub to use every night after a hard day exploring!

Edinburgh is Scotlands capital city. With a great nightlife and lots of historical culture to visit Edinburgh is the perfect getaway. It doesn't matter whether you are in Scotland or visiting from afar everyone loves Edinburgh. There are lots of Airbnb in Edinburgh, but this one is pretty amazing. Soak in a free-standing tub under a ceiling that seems to stretch forever. The tremendous vaulted roof, the stained glass windows, and the palatial fireplace are just a few features of a fantastic space that hardly does the term 'open-plan' justice. This is just a snippet of the best Scotland Airbnb that we found. You can find a lot more of the ones we love the look of here. As an
Airbnb Associate
, I may earn a fee when you book from this widget. Let us know in the comments your favourite Scottish Airbnb you have stayed in. What should have made the list, drop us a message and maybe we can do a part two. Other
amazing Airbnbs in Scotland.